Mesoblast (MESO) PT Set at $20.00 by Cantor Fitzgerald
Mesoblast (NASDAQ:MESO) has been assigned a $20.00 price target by analysts at Cantor Fitzgerald in a research note issued to investors on Tuesday. The firm presently has a "buy" rating on the stock. Cantor Fitzgerald's price objective would indicate a potential upside of 236.13% from the company's current price.
The analysts wrote, "Heart Failure Holds Focus. In C1Q18, we expect top-line results of the Phase 2b, 159-patient, end-stage heart failure and LVAD study. We anticipate that disclosure of the top-line data on patient functional status (LVAD weaning) will remain limited until overall survival results (up to 12 months) become available. A successful outcome could accelerate the regulatory path of the overall cardiac program, in our view, especially considering recently awarded RMAT designation for the LVAD program.""
Other research analysts have also issued research reports about the stock. Zacks Investment Research upgraded shares of Mesoblast from a "hold" rating to a "buy" rating and set a $6.25 price objective for the company in a report on Saturday, January 13th. Oppenheimer set a $16.00 price objective on shares of Mesoblast and gave the company a "buy" rating in a report on Wednesday, December 20th. Finally, Maxim Group set a $14.00 price target on shares of Mesoblast and gave the stock a "buy" rating in a report on Monday, December 18th. Two analysts have rated the stock with a sell rating, two have given a hold rating and five have assigned a buy rating to the company. The stock presently has a consensus rating of "Hold" and a consensus target price of $13.11.
Mesoblast (
NASDAQ MESO
) opened at $5.95 on Tuesday. The stock has a market cap of $550.73, a P/E ratio of -7.26 and a beta of 2.44. Mesoblast has a fifty-two week low of $4.80 and a fifty-two week high of $12.50.
Mesoblast (NASDAQ:MESO) last issued its quarterly earnings data on Tuesday, November 14th. The company reported ($0.08) earnings per share (EPS) for the quarter, beating analysts' consensus estimates of ($0.23) by $0.15. Mesoblast had a negative net margin of 2,006.86% and a negative return on equity of 12.04%. equities analysts expect that Mesoblast will post -0.91 earnings per share for the current year.
ILLEGAL ACTIVITY WARNING: "Mesoblast (MESO) PT Set at $20.00 by Cantor Fitzgerald" was posted by The Cerbat Gem and is the property of of The Cerbat Gem. If you are reading this article on another domain, it was illegally copied and republished in violation of U.S. & international copyright laws. The legal version of this article can be accessed at https://www.thecerbatgem.com/2018/01/18/mesoblast-meso-pt-set-at-20-00-by-cantor-fitzgerald.html.
Mesoblast Company Profile
Mesoblast Limited is engaged in developing cell-based medicines. The Company has leveraged its technology platform, which is based on specialized cells known as mesenchymal lineage adult stem cells, to establish a portfolio of late-stage product candidates. Its allogeneic, off-the-shelf cell product candidates target advanced stages of diseases with high, unmet medical needs, including cardiovascular conditions, orthopedic disorders, immunologic and inflammatory disorders and oncologic/hematologic conditions.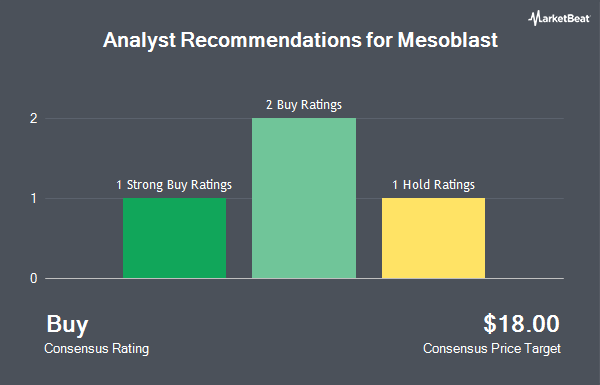 Receive News & Ratings for Mesoblast Daily - Enter your email address below to receive a concise daily summary of the latest news and analysts' ratings for Mesoblast and related companies with MarketBeat.com's FREE daily email newsletter.