Q4 2017 Earnings Estimate for Sherritt International Corp Issued By National Bank Financial (S)
Sherritt International Corp (TSE:S) – Equities research analysts at National Bank Financial lifted their Q4 2017 earnings per share estimates for shares of Sherritt International in a report issued on Sunday. National Bank Financial analyst D. Demarco now forecasts that the company will post earnings of ($0.14) per share for the quarter, up from their previous estimate of ($0.15). National Bank Financial currently has a "Outperform Spec Overweight" rating on the stock. National Bank Financial also issued estimates for Sherritt International's FY2018 earnings at ($0.20) EPS and FY2019 earnings at $0.02 EPS.
Sherritt International (TSE:S) last released its earnings results on Tuesday, October 24th. The company reported C($0.29) EPS for the quarter, missing the Thomson Reuters' consensus estimate of C($0.08) by C($0.21). Sherritt International had a negative net margin of 109.79% and a negative return on equity of 33.79%.
Several other equities analysts have also weighed in on S. Scotiabank raised their price objective on shares of Sherritt International from C$1.30 to C$1.50 and gave the company a "sector perform" rating in a research report on Thursday, October 26th. TD Securities reduced their price objective on shares of Sherritt International from C$2.75 to C$2.50 and set a "speculative buy" rating for the company in a research report on Monday.
Sherritt International (S) opened at C$1.31 on Wednesday. Sherritt International has a 12-month low of C$0.74 and a 12-month high of C$1.87. The firm has a market cap of $392.64, a PE ratio of -1.09 and a beta of 1.53.
COPYRIGHT VIOLATION NOTICE: This report was posted by The Cerbat Gem and is the sole property of of The Cerbat Gem. If you are accessing this report on another website, it was illegally stolen and republished in violation of international copyright laws. The correct version of this report can be read at https://www.thecerbatgem.com/2018/01/19/q4-2017-earnings-estimate-for-sherritt-international-corp-issued-by-national-bank-financial-s.html.
About Sherritt International
Sherritt International Corporation is engaged in the mining and refining of nickel and cobalt from lateritic ores with projects and operations in Canada, Cuba and Madagascar. The Company's segments include Metals, Oil and Gas, Power, and Corporate and Other. The Metals segment includes mining, processing and refining nickel and cobalt from lateritic ore bodies, through the partnership with General Nickel Company SA of Cuba (the Moa Joint Venture); an interest in the Ambatovy Joint Venture that owns a nickel operation in Madagascar.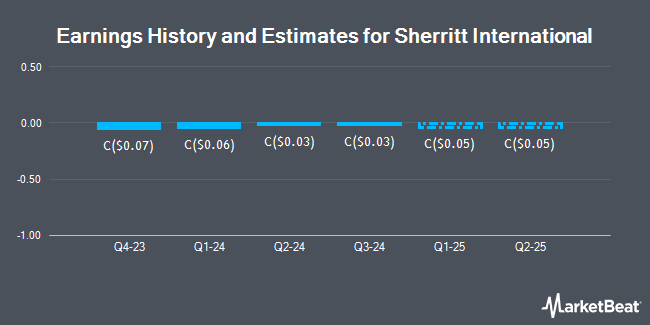 Receive News & Ratings for Sherritt International Daily - Enter your email address below to receive a concise daily summary of the latest news and analysts' ratings for Sherritt International and related companies with MarketBeat.com's FREE daily email newsletter.