Bio-Rad Laboratories (BIO) to Release Quarterly Earnings on Wednesday
Bio-Rad Laboratories (NYSE:BIO) will be releasing its earnings data after the market closes on Wednesday, February 21st. Analysts expect Bio-Rad Laboratories to post earnings of $1.26 per share for the quarter.
Bio-Rad Laboratories (BIO) opened at $237.36 on Wednesday. The company has a market capitalization of $7,045.50, a PE ratio of 300.46, a PEG ratio of 1.86 and a beta of 0.97. The company has a quick ratio of 2.77, a current ratio of 4.06 and a debt-to-equity ratio of 0.15. Bio-Rad Laboratories has a twelve month low of $186.98 and a twelve month high of $273.87.
Bio-Rad Laboratories declared that its board has approved a stock buyback program on Tuesday, November 28th that authorizes the company to repurchase $250.00 million in outstanding shares. This repurchase authorization authorizes the medical research company to buy shares of its stock through open market purchases. Stock repurchase programs are typically an indication that the company's management believes its shares are undervalued.
Several research firms have recently commented on BIO.
Zacks Investment Research
upgraded Bio-Rad Laboratories from a "hold" rating to a "strong-buy" rating and set a $291.00 price objective on the stock in a report on Wednesday, December 13th. TheStreet raised Bio-Rad Laboratories from a "c+" rating to a "b-" rating in a research note on Monday, November 13th. Finally, Wells Fargo & Co reissued an "outperform" rating and issued a $290.00 target price (up from $250.00) on shares of Bio-Rad Laboratories in a research note on Wednesday, November 29th. Four investment analysts have rated the stock with a buy rating and one has issued a strong buy rating to the stock. The company presently has a consensus rating of "Buy" and an average price target of $277.75.
In related news, VP James R. Stark sold 746 shares of the firm's stock in a transaction dated Thursday, November 30th. The stock was sold at an average price of $270.51, for a total value of $201,800.46. The transaction was disclosed in a legal filing with the SEC, which can be accessed through this hyperlink. Also, CFO Christine A. Tsingos sold 4,980 shares of the firm's stock in a transaction dated Thursday, December 14th. The stock was sold at an average price of $249.40, for a total value of $1,242,012.00. Following the completion of the sale, the chief financial officer now directly owns 7,283 shares in the company, valued at $1,816,380.20. The disclosure for this sale can be found here. Insiders sold 6,726 shares of company stock worth $1,702,202 over the last three months. 28.29% of the stock is owned by insiders.
COPYRIGHT VIOLATION WARNING: This report was first reported by The Cerbat Gem and is the sole property of of The Cerbat Gem. If you are reading this report on another publication, it was illegally copied and reposted in violation of United States and international copyright laws. The original version of this report can be viewed at https://www.thecerbatgem.com/2018/02/14/bio-rad-laboratories-bio-to-release-quarterly-earnings-on-wednesday.html.
Bio-Rad Laboratories Company Profile
Bio-Rad Laboratories, Inc (Bio-Rad) is a manufacturer and distributor of its life science research and clinical diagnostics products. The Company operates through two segments: Life Science and Clinical Diagnostics. It manufactures and supplies the life science research, healthcare, analytical chemistry and other markets with a range of products and systems used to separate complex chemical and biological materials and to identify, analyze and purify their components.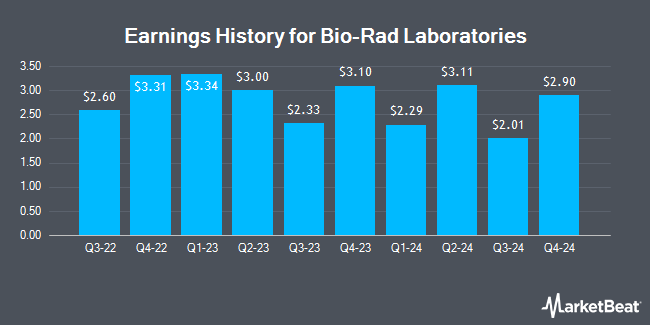 Receive News & Ratings for Bio-Rad Laboratories Daily - Enter your email address below to receive a concise daily summary of the latest news and analysts' ratings for Bio-Rad Laboratories and related companies with MarketBeat.com's FREE daily email newsletter.