JMP Group (JMP) Releases Earnings Results
JMP Group (NYSE:JMP) issued its earnings results on Wednesday. The financial services provider reported $0.16 earnings per share (EPS) for the quarter, beating analysts' consensus estimates of $0.06 by $0.10, Bloomberg Earnings reports. JMP Group had a negative net margin of 11.87% and a positive return on equity of 2.90%.
Shares of JMP Group (JMP) remained flat at $$5.50 during trading hours on Wednesday. 17,532 shares of the company's stock traded hands, compared to its average volume of 31,782. The company has a market cap of $118.60, a price-to-earnings ratio of -8.73, a price-to-earnings-growth ratio of 1.28 and a beta of 0.79. JMP Group has a 52 week low of $5.13 and a 52 week high of $7.70. The company has a debt-to-equity ratio of 7.31, a quick ratio of 3.25 and a current ratio of 3.25.
The business also recently announced a monthly dividend, which will be paid on Thursday, March 15th. Shareholders of record on Wednesday, February 28th will be paid a dividend of $0.03 per share. This represents a $0.36 dividend on an annualized basis and a dividend yield of 6.55%. The ex-dividend date is Tuesday, February 27th. JMP Group's dividend payout ratio (DPR) is currently -57.14%.
JMP Group announced that its Board of Directors has initiated a share repurchase plan on Wednesday, December 13th that authorizes the company to buyback 1,000,000 shares. This buyback authorization authorizes the financial services provider to buy shares of its stock through open market purchases. Shares buyback plans are generally a sign that the company's leadership believes its stock is undervalued.
In related news, Director Thomas Rowe Wright bought 12,500 shares of the firm's stock in a transaction on Tuesday, November 28th. The stock was bought at an average price of $5.33 per share, with a total value of $66,625.00. Following the purchase, the director now directly owns 363,636 shares of the company's stock, valued at approximately $1,938,179.88. The transaction was disclosed in a document filed with the SEC, which is available at this hyperlink. Company insiders own 52.11% of the company's stock.
A number of equities research analysts have issued reports on JMP shares. Zacks Investment Research raised shares of JMP Group from a "strong sell" rating to a "buy" rating and set a $6.00 target price for the company in a research note on Thursday, November 9th. Keefe, Bruyette & Woods reissued a "hold" rating and set a $5.75 target price on shares of JMP Group in a research note on Thursday, January 11th.
WARNING: This piece was originally reported by The Cerbat Gem and is owned by of The Cerbat Gem. If you are reading this piece on another domain, it was illegally copied and reposted in violation of U.S. and international copyright & trademark law. The correct version of this piece can be viewed at https://www.thecerbatgem.com/2018/02/14/jmp-group-jmp-releases-earnings-results.html.
JMP Group Company Profile
JMP Group LLC, formerly JMP Group, Inc, is a full-service investment banking and asset management firm. The Company operates in five segments: Broker-Dealer, Asset Management, Corporate Credit, Investment Income and Corporate Costs. The Broker-Dealer segment includes a range of services, such as underwriting and acting as a placement agent for public and private capital markets raising transactions and financial advisory services in mergers and acquisitions, restructuring and other strategic transactions.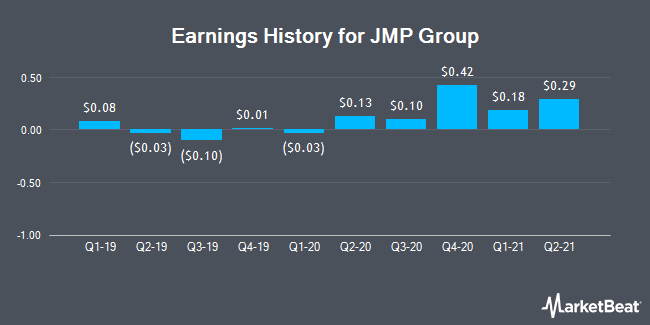 Receive News & Ratings for JMP Group Daily - Enter your email address below to receive a concise daily summary of the latest news and analysts' ratings for JMP Group and related companies with MarketBeat.com's FREE daily email newsletter.