VF (VFC) Releases Q1 Earnings Guidance
VF (NYSE:VFC) updated its first quarter earnings guidance on Friday. The company provided EPS guidance of $0.65 for the period, compared to the Thomson Reuters consensus EPS estimate of $0.63. The company issued revenue guidance of $2.90 billion, compared to the consensus revenue estimate of $2.95 billion.
Several brokerages have recently issued reports on VFC. DA Davidson upped their price objective on VF to $72.00 and gave the company a neutral rating in a research report on Tuesday, October 24th. Guggenheim restated a buy rating and issued a $84.00 price objective on shares of VF in a research report on Wednesday, January 10th. Piper Jaffray Companies upgraded VF from a neutral rating to an overweight rating and set a $56.00 price objective on the stock in a research report on Monday, February 5th. KeyCorp restated a hold rating on shares of VF in a research report on Tuesday, October 31st. Finally, Robert W. Baird restated an average rating and issued a $84.00 price objective on shares of VF in a research report on Wednesday, January 3rd. Two investment analysts have rated the stock with a sell rating, eleven have issued a hold rating and nine have assigned a buy rating to the company's stock. The stock has a consensus rating of Hold and an average price target of $73.05.
VF (NYSE VFC) opened at $79.50 on Friday. The company has a market capitalization of $33,070.03, a PE ratio of 33.54, a PEG ratio of 2.33 and a beta of 0.90. The company has a quick ratio of 0.97, a current ratio of 1.47 and a debt-to-equity ratio of 0.54. VF has a twelve month low of $50.34 and a twelve month high of $84.38.
VF (NYSE:VFC) last released its quarterly earnings data on Friday, February 16th. The textile maker reported $1.01 EPS for the quarter, missing analysts' consensus estimates of $1.02 by ($0.01). The firm had revenue of $3.65 billion during the quarter, compared to analysts' expectations of $3.67 billion. VF had a return on equity of 29.22% and a net margin of 8.24%. The business's revenue for the quarter was up 20.1% compared to the same quarter last year. During the same quarter last year, the business earned $0.97 earnings per share. equities research analysts anticipate that VF will post 3.03 earnings per share for the current year.
The company also recently disclosed a quarterly dividend, which will be paid on Monday, March 19th. Stockholders of record on Friday, March 9th will be issued a $0.46 dividend. This represents a $1.84 dividend on an annualized basis and a dividend yield of 2.31%. VF's dividend payout ratio (DPR) is 77.64%.
In other news, VP Scott H. Baxter sold 39,694 shares of the firm's stock in a transaction dated Monday, November 20th. The stock was sold at an average price of $71.50, for a total value of $2,838,121.00. Following the transaction, the vice president now directly owns 112,202 shares in the company, valued at approximately $8,022,443. The transaction was disclosed in a document filed with the SEC, which is accessible through the SEC website. Company insiders own 1.60% of the company's stock.
TRADEMARK VIOLATION NOTICE: This news story was originally posted by The Cerbat Gem and is the sole property of of The Cerbat Gem. If you are viewing this news story on another domain, it was illegally stolen and republished in violation of U.S. and international copyright and trademark legislation. The original version of this news story can be accessed at https://www.thecerbatgem.com/2018/02/16/vf-vfc-releases-q1-earnings-guidance.html.
About VF
V.F. Corporation (VF) is engaged in the design, production, procurement, marketing and distribution of branded lifestyle apparel, footwear and related products. The Company's segments include Outdoor & Action Sports, Jeanswear, Imagewear and Sportswear. Its Outdoor & Action Sports Coalition is a group of authentic outdoor and activity-based lifestyle brands.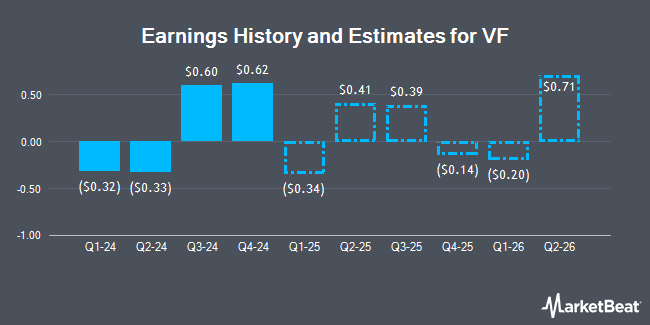 Receive News & Ratings for VF Daily - Enter your email address below to receive a concise daily summary of the latest news and analysts' ratings for VF and related companies with MarketBeat.com's FREE daily email newsletter.