Carlsberg A/S (CABGY) Lowered to Sell at Zacks Investment Research
Zacks Investment Research cut shares of Carlsberg A/S (OTCMKTS:CABGY) from a hold rating to a sell rating in a report released on Tuesday.
According to Zacks, "Carlsberg A/S is a brewing company and has operations in Northern & Western Europe, Eastern Europe and Asia. Its beer portfolio includes more than 500 brands. The company offers its products primarily under the Carlsberg, Tuborg, Baltika, and Kronenbourg 1664 names and local brands such as Ringnes in Norway, Feldschlösschen in Switzerland, Lav in Serbia, and Wusu in western China. Carlsberg A/S is based in Copenhagen, Denmark. "
Other equities research analysts have also issued reports about the stock. Macquarie restated a neutral rating on shares of Carlsberg A/S in a report on Wednesday, January 24th. Deutsche Bank upgraded shares of Carlsberg A/S from a hold rating to a buy rating in a report on Thursday, January 18th. Two investment analysts have rated the stock with a sell rating, three have given a hold rating and two have given a buy rating to the stock. The company presently has a consensus rating of Hold and an average price target of $28.00.
Shares of Carlsberg A/S (
CABGY
) opened at $24.45 on Tuesday. Carlsberg A/S has a twelve month low of $17.47 and a twelve month high of $26.00. The company has a current ratio of 0.56, a quick ratio of 0.44 and a debt-to-equity ratio of 0.40.
COPYRIGHT VIOLATION NOTICE: "Carlsberg A/S (CABGY) Lowered to Sell at Zacks Investment Research" was reported by The Cerbat Gem and is the property of of The Cerbat Gem. If you are accessing this story on another website, it was illegally copied and republished in violation of US & international copyright & trademark laws. The legal version of this story can be accessed at https://www.thecerbatgem.com/2018/03/14/carlsberg-a-s-cabgy-lowered-to-sell-at-zacks-investment-research.html.
About Carlsberg A/S
Carlsberg A/S is a Denmark-based company active within the brewing industry. It is primarily engaged in the production, marketing and sale of beer and soft drinks. The Company's portfolio consists of a range of beer and cider brands, including Carlsberg, Kronenbourg, Baltika, Somersby, Holsten, Tuborg, Lav and Lvivske, among others.
Get a free copy of the Zacks research report on Carlsberg A/S (CABGY)
For more information about research offerings from Zacks Investment Research, visit Zacks.com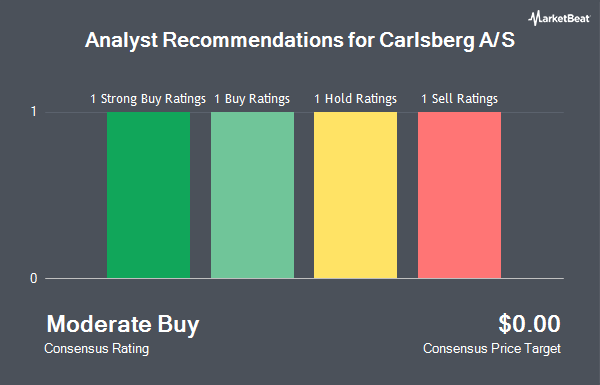 Receive News & Ratings for Carlsberg A/S Daily - Enter your email address below to receive a concise daily summary of the latest news and analysts' ratings for Carlsberg A/S and related companies with MarketBeat.com's FREE daily email newsletter.