Gladstone Investment Co. Announces Monthly Dividend of $0.07 (GAIN)
Gladstone Investment Co. (NASDAQ:GAIN) announced a monthly dividend on Wednesday, July 11th, Wall Street Journal reports. Stockholders of record on Tuesday, August 21st will be paid a dividend of 0.067 per share by the investment management company on Friday, August 31st. This represents a $0.80 dividend on an annualized basis and a dividend yield of 6.85%. The ex-dividend date of this dividend is Monday, August 20th.
Shares of GAIN traded down $0.03 during mid-day trading on Wednesday, reaching $11.73. The company had a trading volume of 78,968 shares, compared to its average volume of 187,542. Gladstone Investment has a 52-week low of $9.00 and a 52-week high of $12.26. The company has a market capitalization of $389.93 million, a price-to-earnings ratio of 14.30 and a beta of 0.53.
Gladstone Investment (NASDAQ:GAIN) last issued its earnings results on Tuesday, May 15th. The investment management company reported $0.21 EPS for the quarter, topping analysts' consensus estimates of $0.19 by $0.02. The firm had revenue of $15.42 million for the quarter, compared to the consensus estimate of $13.88 million. Gladstone Investment had a return on equity of 7.64% and a net margin of 104.00%. equities research analysts expect that Gladstone Investment will post 0.79 EPS for the current fiscal year.
GAIN has been the topic of a number of recent analyst reports.
Zacks Investment Research
downgraded Gladstone Investment from a "buy" rating to a "hold" rating in a research report on Tuesday, April 10th. BidaskClub upgraded Gladstone Investment from a "hold" rating to a "buy" rating in a research report on Tuesday, April 24th. Finally,
ValuEngine
downgraded Gladstone Investment from a "strong-buy" rating to a "buy" rating in a research report on Wednesday, May 2nd. Three analysts have rated the stock with a hold rating and three have given a buy rating to the stock. The stock has a consensus rating of "Buy" and an average target price of $11.33.
About Gladstone Investment
Gladstone Investment Corporation is a business development company specializing in buyouts; recapitalizations; refinancing existing debt; senior debt securities such as senior loans, senior term loans, lines of credit, and senior notes; senior subordinated debt securities such as senior subordinated loans and senior subordinated notes; junior subordinated debt securities such as subordinated notes and mezzanine loans; limited liability company interests, and warrants or options.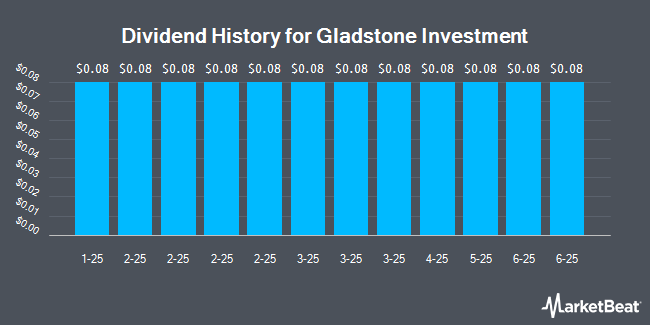 Receive News & Ratings for Gladstone Investment Daily - Enter your email address below to receive a concise daily summary of the latest news and analysts' ratings for Gladstone Investment and related companies with MarketBeat.com's FREE daily email newsletter.