LTC Properties Inc (LTC) to Issue Jul 18 Dividend of $0.19 on July 31st
LTC Properties Inc (NYSE:LTC) declared a jul 18 dividend on Monday, July 2nd, RTT News reports. Shareholders of record on Monday, July 23rd will be given a dividend of 0.19 per share by the real estate investment trust on Tuesday, July 31st. This represents a yield of 5.29%. The ex-dividend date is Friday, July 20th.
LTC Properties has raised its dividend payment by an average of 3.8% per year over the last three years and has raised its dividend annually for the last 6 consecutive years. LTC Properties has a payout ratio of 75.7% indicating that its dividend is currently covered by earnings, but may not be in the future if the company's earnings decline. Research analysts expect LTC Properties to earn $3.10 per share next year, which means the company should continue to be able to cover its $2.28 annual dividend with an expected future payout ratio of 73.5%.
LTC Properties stock opened at $41.17 on Thursday. The firm has a market capitalization of $1.64 billion, a price-to-earnings ratio of 13.49, a price-to-earnings-growth ratio of 3.44 and a beta of 0.13. The company has a debt-to-equity ratio of 0.91, a current ratio of 9.69 and a quick ratio of 9.69. LTC Properties has a 12 month low of $34.46 and a 12 month high of $51.91.
LTC Properties (NYSE:LTC) last released its quarterly earnings data on Wednesday, May 9th. The real estate investment trust reported $0.51 EPS for the quarter, missing analysts' consensus estimates of $0.52 by ($0.01). The business had revenue of $41.81 million during the quarter, compared to analyst estimates of $34.17 million. LTC Properties had a return on equity of 11.36% and a net margin of 51.43%. During the same period in the prior year, the firm earned $0.54 EPS. analysts anticipate that LTC Properties will post 3.01 earnings per share for the current fiscal year.
LTC has been the subject of a number of research reports. BMO Capital Markets set a $39.00 price objective on shares of LTC Properties and gave the stock a "sell" rating in a report on Monday, March 26th. ValuEngine downgraded shares of LTC Properties from a "hold" rating to a "sell" rating in a report on Wednesday, May 2nd. Cantor Fitzgerald reaffirmed a "buy" rating and issued a $45.00 price objective on shares of LTC Properties in a report on Thursday, May 10th. Zacks Investment Research upgraded LTC Properties from a "sell" rating to a "hold" rating in a research note on Friday, May 18th. Finally, Royal Bank of Canada cut LTC Properties from a "sector perform" rating to an "underperform" rating and set a $38.00 target price on the stock. in a research note on Wednesday, May 23rd. Three analysts have rated the stock with a sell rating, five have given a hold rating and two have given a buy rating to the stock. The company presently has an average rating of "Hold" and an average price target of $42.86.
LTC Properties Company Profile
LTC is a self-administered real estate investment trust that primarily invests in seniors housing and health care properties primarily through sale-leaseback transactions, mortgage financing and structured finance solutions including mezzanine lending. At March 31, 2018, LTC had 203 investments located in 29 states comprising 105 assisted living communities, 97 skilled nursing centers and a behavioral health care hospital.
Read More: Book Value Per Share – BVPS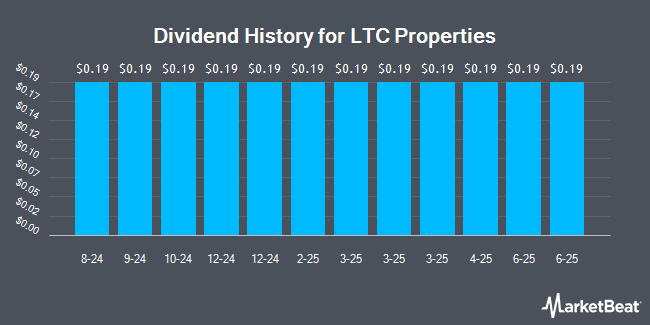 Receive News & Ratings for LTC Properties Daily - Enter your email address below to receive a concise daily summary of the latest news and analysts' ratings for LTC Properties and related companies with MarketBeat.com's FREE daily email newsletter.