Castle Brands (ROX) Announces Quarterly Earnings Results
Castle Brands (NYSEAMERICAN:ROX) released its earnings results on Thursday. The company reported $0.00 earnings per share for the quarter, missing the Thomson Reuters' consensus estimate of $0.01 by ($0.01), Fidelity Earnings reports. Castle Brands had a net margin of 2.76% and a return on equity of 55.84%. The business had revenue of $23.10 million for the quarter, compared to analysts' expectations of $22.48 million.
Castle Brands traded down $0.04, hitting $1.20, on Friday, MarketBeat.com reports. 511,715 shares of the company's stock traded hands, compared to its average volume of 278,651. Castle Brands has a 1 year low of $0.98 and a 1 year high of $1.69.
Separately, Barrington Research set a $2.00 target price on Castle Brands and gave the company a "buy" rating in a research note on Monday, June 11th.
Castle Brands Company Profile
Castle Brands Inc, together with its subsidiaries, develops, markets, imports, and sells beverage alcohol and non-alcoholic beverage products in the United States, Canada, Europe, and Asia. The company offers premium and super premium rums, whiskey, liqueurs, vodka, tequila, wine, amaretto, and other spirits, as well as ginger beer and ready-to-drink cocktails.
Further Reading: Market Capitalization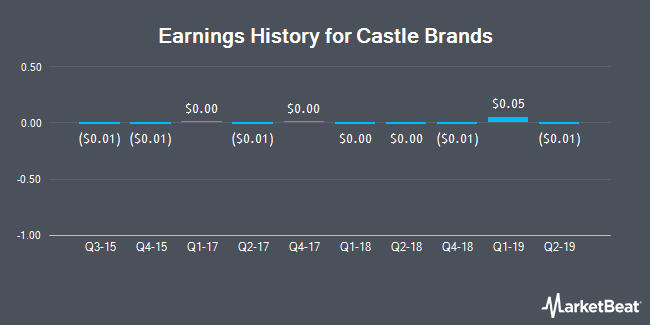 Receive News & Ratings for Castle Brands Daily - Enter your email address below to receive a concise daily summary of the latest news and analysts' ratings for Castle Brands and related companies with MarketBeat.com's FREE daily email newsletter.