First Guaranty Bancshares (FGBI) Announces Earnings Results, Beats Estimates By $0.09 EPS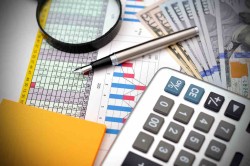 First Guaranty Bancshares (NASDAQ:FGBI) released its quarterly earnings results on Thursday. The bank reported $0.52 earnings per share for the quarter, topping analysts' consensus estimates of $0.43 by $0.09, Yahoo Finance reports. First Guaranty Bancshares had a return on equity of 8.54% and a net margin of 15.49%.
Shares of First Guaranty Bancshares stock traded up $0.06 during mid-day trading on Friday, reaching $25.89. 7,597 shares of the stock traded hands, compared to its average volume of 2,480. First Guaranty Bancshares has a fifty-two week low of $24.62 and a fifty-two week high of $29.95. The stock has a market capitalization of $229.07 million, a P/E ratio of 18.83 and a beta of 0.66. The company has a debt-to-equity ratio of 0.26, a current ratio of 0.75 and a quick ratio of 0.75.
Separately, Sandler O'Neill reaffirmed a "hold" rating and issued a $28.00 price target on shares of First Guaranty Bancshares in a report on Sunday, August 5th.
In other First Guaranty Bancshares news, Chairman Marshall T. Reynolds sold 58,575 shares of the stock in a transaction that occurred on Wednesday, June 20th. The stock was sold at an average price of $27.00, for a total transaction of $1,581,525.00. The sale was disclosed in a legal filing with the Securities & Exchange Commission, which is available at
this hyperlink
. 39.60% of the stock is owned by corporate insiders.
About First Guaranty Bancshares
First Guaranty Bancshares, Inc operates as the holding company for First Guaranty Bank that provides commercial banking services to businesses, professionals, and individuals in Louisiana and Texas. It offers various deposit products, including personal and business checking, savings, money market, and demand accounts, as well as time deposits.
Featured Article: Trading Strategy Methods and Types
Receive News & Ratings for First Guaranty Bancshares Daily - Enter your email address below to receive a concise daily summary of the latest news and analysts' ratings for First Guaranty Bancshares and related companies with MarketBeat.com's FREE daily email newsletter.