Zacks Investment Research Downgrades Aquabounty Technologies (AQB) to Sell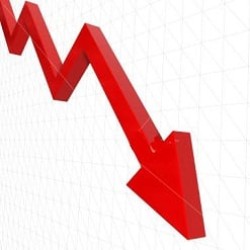 Zacks Investment Research lowered shares of Aquabounty Technologies (NASDAQ:AQB) from a hold rating to a sell rating in a research report report published on Tuesday morning.
According to Zacks, "AquaBounty Technologies, Inc. is a biotechnology company. It focused on enhancing productivity in aquaculture. The company operates primarily in Maynard, Massachusetts and Fortune, Prince Edward Island. AquaBounty Technologies, Inc. is based in Maynard, United States. "
Separately, HC Wainwright began coverage on Aquabounty Technologies in a report on Thursday, June 28th. They issued a buy rating and a $3.75 price objective for the company.
NASDAQ:AQB
opened at $2.81 on Tuesday. Aquabounty Technologies has a twelve month low of $2.25 and a twelve month high of $9.99. The firm has a market cap of $36.49 million, a PE ratio of -2.64 and a beta of -2.56. The company has a quick ratio of 3.30, a current ratio of 3.36 and a debt-to-equity ratio of 0.12.
Aquabounty Technologies (NASDAQ:AQB) last released its earnings results on Tuesday, August 7th. The company reported ($0.22) earnings per share for the quarter, missing the consensus estimate of ($0.19) by ($0.03). The firm had revenue of $0.05 million during the quarter, compared to analyst estimates of $0.02 million. sell-side analysts anticipate that Aquabounty Technologies will post -0.78 earnings per share for the current year.
An institutional investor recently raised its position in Aquabounty Technologies stock. Third Security LLC lifted its position in Aquabounty Technologies Inc (NASDAQ:AQB) by 25.6% in the 1st quarter, according to its most recent Form 13F filing with the Securities and Exchange Commission (SEC). The institutional investor owned 7,538,292 shares of the company's stock after acquiring an additional 1,538,461 shares during the quarter. Aquabounty Technologies accounts for approximately 1.6% of Third Security LLC's investment portfolio, making the stock its 5th largest holding. Third Security LLC owned approximately 59.45% of Aquabounty Technologies worth $22,238,000 at the end of the most recent quarter. Institutional investors and hedge funds own 63.09% of the company's stock.
Aquabounty Technologies Company Profile
AquaBounty Technologies, Inc, a biotechnology company, develops and markets products to enhance productivity in aquaculture. It offers AquAdvantage Salmon, a genetically modified Atlantic salmon for human consumption. The company was formerly known as Aqua Bounty Farms, Inc and changed its name to AquaBounty Technologies, Inc in June 2004.
Featured Story: Asset Allocation Models, Which is Right For You?
Get a free copy of the Zacks research report on Aquabounty Technologies (AQB)
For more information about research offerings from Zacks Investment Research, visit Zacks.com
Receive News & Ratings for Aquabounty Technologies Daily - Enter your email address below to receive a concise daily summary of the latest news and analysts' ratings for Aquabounty Technologies and related companies with MarketBeat.com's FREE daily email newsletter.