Brokerages Set Franco Nevada Corp (FNV) Target Price at $114.71
Shares of Franco Nevada Corp (TSE:FNV) (NYSE:FNV) have received a consensus recommendation of "Hold" from the nine analysts that are presently covering the company, Marketbeat reports. One equities research analyst has rated the stock with a sell rating, three have assigned a hold rating and two have given a buy rating to the company. The average twelve-month target price among brokers that have issued ratings on the stock in the last year is C$114.71.
A number of brokerages have issued reports on FNV. National Bank Financial reduced their price objective on Franco Nevada from C$107.50 to C$102.50 in a research note on Saturday, July 14th. Canaccord Genuity reduced their price objective on Franco Nevada from C$122.00 to C$115.00 in a research note on Tuesday, July 24th.
Shares of Franco Nevada stock opened at C$85.14 on Tuesday. Franco Nevada has a 12-month low of C$84.31 and a 12-month high of C$110.18.
The firm also recently disclosed a quarterly dividend, which will be paid on Thursday, September 27th. Shareholders of record on Thursday, September 13th will be paid a $0.312 dividend. This represents a $1.25 dividend on an annualized basis and a yield of 1.47%. The ex-dividend date of this dividend is Wednesday, September 12th. This is an increase from Franco Nevada's previous quarterly dividend of $0.31.
Franco Nevada Company Profile
Franco-Nevada Corporation operates as a gold-focused royalty and stream company in the United States, Canada, Mexico, Peru, Chile, Australia, and Africa. The company also holds interests in silver, platinum group metals, oil and gas, and other resource assets. As of December 31, 2017, it had a portfolio of 341 assets.
Read More: Outstanding Shares, Buying and Selling Stocks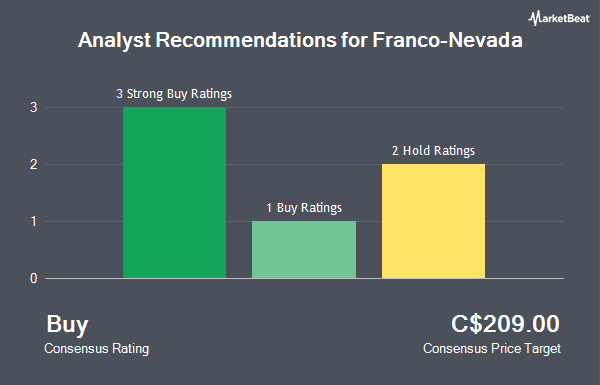 Receive News & Ratings for Franco Nevada Daily - Enter your email address below to receive a concise daily summary of the latest news and analysts' ratings for Franco Nevada and related companies with MarketBeat.com's FREE daily email newsletter.