Peel Hunt Trims Cairn Energy (CNE) Target Price to GBX 260
Cairn Energy (LON:CNE) had its price target trimmed by Peel Hunt from GBX 280 ($3.65) to GBX 260 ($3.39) in a report released on Thursday. The brokerage currently has an add rating on the oil and gas development company's stock.
Several other analysts have also recently commented on CNE. Goldman Sachs Group upgraded Cairn Energy to a buy rating and set a GBX 288.20 ($3.75) target price on the stock in a report on Thursday, May 17th. BNP Paribas cut Cairn Energy to a neutral rating and upped their target price for the company from GBX 230 ($3.00) to GBX 290 ($3.78) in a report on Wednesday, May 23rd. Jefferies Financial Group upped their target price on Cairn Energy from GBX 235 ($3.06) to GBX 265 ($3.45) and gave the company a hold rating in a report on Tuesday, June 12th. Citigroup reiterated a buy rating on shares of Cairn Energy in a report on Tuesday, July 10th. Finally, JPMorgan Chase & Co. upped their target price on Cairn Energy from GBX 300 ($3.91) to GBX 306 ($3.99) and gave the company an overweight rating in a report on Thursday, July 12th. Six research analysts have rated the stock with a hold rating and ten have assigned a buy rating to the company. The stock currently has an average rating of Buy and a consensus price target of GBX 275.66 ($3.59).
Shares of CNE stock opened at GBX 209.60 ($2.73) on Thursday. Cairn Energy has a one year low of GBX 164.20 ($2.14) and a one year high of GBX 237 ($3.09).
Cairn Energy Company Profile
Cairn Energy PLC operates as an oil and gas exploration and production company. It holds a portfolio of exploration, development, and production assets in the United Kingdom; Norway; Mexico; and the Atlantic Margin, including Senegal and the Republic of Ireland. The company was incorporated in 2002 and is headquartered in Edinburgh, the United Kingdom.
Further Reading: Stop Order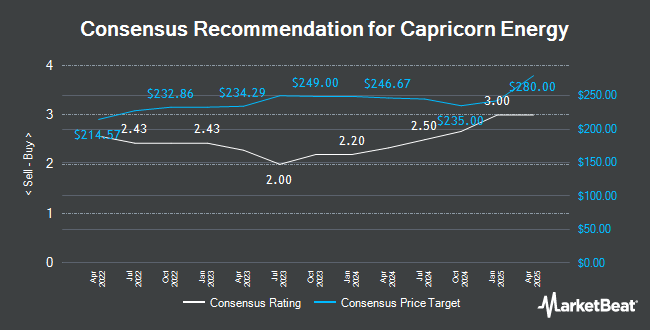 Receive News & Ratings for Cairn Energy Daily - Enter your email address below to receive a concise daily summary of the latest news and analysts' ratings for Cairn Energy and related companies with MarketBeat.com's FREE daily email newsletter.