Vanguard Energy ETF (VDE) Announces Quarterly Dividend of $0.68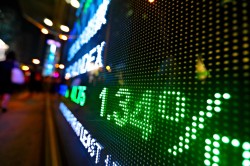 Vanguard Energy ETF (NYSEARCA:VDE) announced a quarterly dividend on Friday, September 21st, Wall Street Journal reports. Investors of record on Tuesday, September 25th will be given a dividend of 0.6763 per share on Thursday, September 27th. This represents a $2.71 annualized dividend and a dividend yield of 2.58%. The ex-dividend date of this dividend is Monday, September 24th. This is an increase from Vanguard Energy ETF's previous quarterly dividend of $0.65.
Shares of VDE stock traded up $0.66 on Friday, hitting $104.69. The stock had a trading volume of 184,766 shares, compared to its average volume of 279,034. Vanguard Energy ETF has a one year low of $87.83 and a one year high of $109.79.
An institutional investor recently raised its position in Vanguard Energy ETF stock. Bank of New York Mellon Corp boosted its position in Vanguard Energy ETF (NYSEARCA:VDE) by 9.6% in the second quarter, according to its most recent Form 13F filing with the SEC. The institutional investor owned 18,430 shares of the company's stock after purchasing an additional 1,614 shares during the quarter. Bank of New York Mellon Corp's holdings in Vanguard Energy ETF were worth $1,936,000 at the end of the most recent reporting period.
Vanguard Energy ETF Company Profile
Vanguard Energy ETF (the Fund) is an exchange-traded share class of Vanguard Energy Index Fund. The Fund employs a passive management or indexing investment approach designed to track the performance of the Morgan Stanley Capital International (MSCI) US Investable Market Energy Index (the Index), an index of stocks of large, medium and small United States companies in the energy sector, as classified under the Global Industry Classification Standard (GICS).
See Also: Understanding Average Daily Trade Volume

Receive News & Ratings for Vanguard Energy ETF Daily - Enter your email address below to receive a concise daily summary of the latest news and analysts' ratings for Vanguard Energy ETF and related companies with MarketBeat.com's FREE daily email newsletter.