Western Forest Products (WEF) PT Lowered to C$1.00
Western Forest Products (TSE:WEF) had its price objective cut by research analysts at Raymond James from C$1.60 to C$1.00 in a research report issued on Monday. Raymond James' target price points to a potential downside of 47.09% from the stock's previous close.
Other research analysts have also issued reports about the company. CIBC dropped their price objective on Western Forest Products from C$3.25 to C$3.00 in a research note on Wednesday, August 8th. TD Securities decreased their target price on Western Forest Products from C$3.50 to C$3.25 and set a "buy" rating on the stock in a report on Tuesday, August 7th. One analyst has rated the stock with a hold rating, three have issued a buy rating and one has issued a strong buy rating to the company. The stock has an average rating of "Buy" and a consensus target price of C$2.60.
Western Forest Products stock opened at C$1.89 on Monday. Western Forest Products has a 52-week low of C$1.79 and a 52-week high of C$2.95.
Western Forest Products (TSE:WEF) last released its quarterly earnings data on Thursday, August 2nd. The company reported C$0.07 earnings per share (EPS) for the quarter. Western Forest Products had a return on equity of 13.63% and a net margin of 6.71%. The firm had revenue of C$327.80 million during the quarter.
Western Forest Products Company Profile
Western Forest Products Inc operates as an integrated forest products company. The company is involved in timber harvesting, sawmilling logs into specialty lumber, and value-added lumber remanufacturing. It offers lumber and logs from various tree species, such as western red cedar, hem-fir, Douglas fir, yellow cedar, and Sitka spruce.
Featured Article: What is dollar cost averaging (DCA)?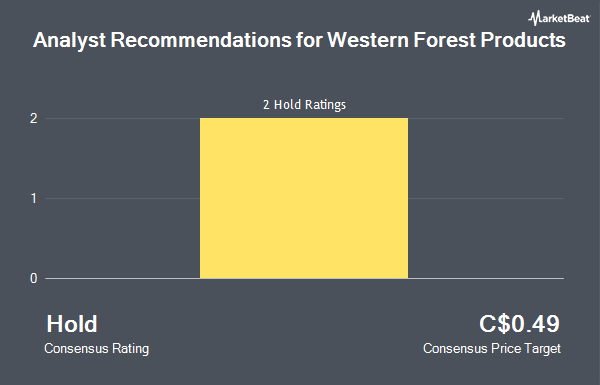 Receive News & Ratings for Western Forest Products Daily - Enter your email address below to receive a concise daily summary of the latest news and analysts' ratings for Western Forest Products and related companies with MarketBeat.com's FREE daily email newsletter.