Benchmark Electronics (BHE) to Release Quarterly Earnings on Wednesday
Benchmark Electronics (NYSE:BHE) is scheduled to announce its earnings results after the market closes on Wednesday, October 24th. Analysts expect the company to announce earnings of $0.32 per share for the quarter. Benchmark Electronics has set its Q3 guidance at $0.28-0.36 EPS.
Benchmark Electronics (NYSE:BHE) last posted its quarterly earnings data on Tuesday, July 24th. The technology company reported $0.30 EPS for the quarter, meeting the Zacks' consensus estimate of $0.30. The business had revenue of $660.59 million for the quarter, compared to analyst estimates of $605.00 million. Benchmark Electronics had a negative net margin of 2.80% and a positive return on equity of 5.99%. The business's revenue for the quarter was up 6.6% on a year-over-year basis. During the same quarter last year, the business earned $0.38 earnings per share.
Benchmark Electronics stock opened at $24.26 on Monday. The company has a current ratio of 3.08, a quick ratio of 2.44 and a debt-to-equity ratio of 0.15. The company has a market capitalization of $1.13 billion, a price-to-earnings ratio of 15.07 and a beta of 0.25. Benchmark Electronics has a 1 year low of $22.81 and a 1 year high of $32.53.
The firm also recently declared a quarterly dividend, which was paid on Thursday, October 11th. Shareholders of record on Friday, September 28th were given a $0.15 dividend. The ex-dividend date of this dividend was Thursday, September 27th. This represents a $0.60 annualized dividend and a yield of 2.47%. Benchmark Electronics's dividend payout ratio (DPR) is 37.27%.
Benchmark Electronics Company Profile
Benchmark Electronics, Inc, together with its subsidiaries, provides engineering services, integrated technology solutions, and manufacturing services in the Americas, Asia, and Europe. The company offers engineering services and technology solutions, including new product design, prototype, testing, and related engineering services; and custom testing, and automation equipment design and build services.
Read More: Technical Analysis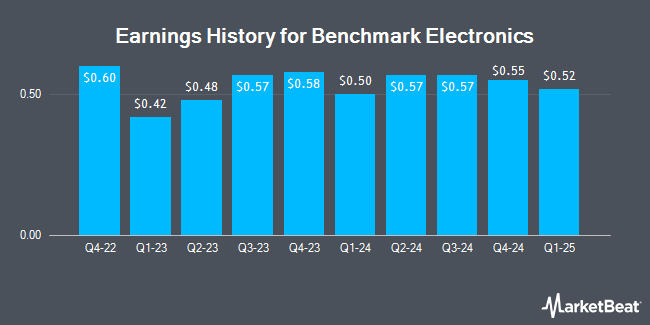 Receive News & Ratings for Benchmark Electronics Daily - Enter your email address below to receive a concise daily summary of the latest news and analysts' ratings for Benchmark Electronics and related companies with MarketBeat.com's FREE daily email newsletter.