Hubbell (HUBB) Scheduled to Post Earnings on Tuesday
Hubbell (NYSE:HUBB) will issue its quarterly earnings data before the market opens on Tuesday, October 23rd. Analysts expect the company to announce earnings of $2.11 per share for the quarter.
Hubbell (NYSE:HUBB) last posted its quarterly earnings data on Tuesday, July 24th. The industrial products company reported $1.97 earnings per share (EPS) for the quarter, topping analysts' consensus estimates of $1.78 by $0.19. Hubbell had a net margin of 6.45% and a return on equity of 21.57%. The company had revenue of $1.17 billion during the quarter, compared to the consensus estimate of $1.12 billion. During the same period in the previous year, the firm posted $1.43 EPS. The firm's revenue was up 23.0% compared to the same quarter last year. On average, analysts expect Hubbell to post $7 EPS for the current fiscal year and $8 EPS for the next fiscal year.
NYSE HUBB opened at $120.03 on Monday. Hubbell has a 52-week low of $100.55 and a 52-week high of $149.03. The company has a quick ratio of 1.20, a current ratio of 1.99 and a debt-to-equity ratio of 1.12. The firm has a market cap of $6.57 billion, a PE ratio of 20.24, a P/E/G ratio of 1.64 and a beta of 1.08.
HUBB has been the subject of a number of research analyst reports. Morgan Stanley initiated coverage on shares of Hubbell in a report on Tuesday, August 21st. They set an "overweight" rating and a $133.00 price objective for the company.
Zacks Investment Research
raised shares of Hubbell from a "hold" rating to a "buy" rating and set a $147.00 price objective for the company in a report on Thursday, October 4th. Wells Fargo & Co reaffirmed an "outperform" rating and set a $140.00 price objective (up from $135.00) on shares of Hubbell in a report on Wednesday, July 25th.
ValuEngine
downgraded shares of Hubbell from a "hold" rating to a "sell" rating in a report on Friday, August 3rd. Finally, Wolfe Research started coverage on shares of Hubbell in a research note on Wednesday, June 27th. They issued a "market perform" rating for the company. Three research analysts have rated the stock with a hold rating and six have given a buy rating to the stock. The company currently has a consensus rating of "Buy" and a consensus price target of $143.00.
About Hubbell
Hubbell Incorporated designs, manufactures, and sells electrical and electronic products in the United States and internationally. It operates through two segments, Electrical and Power. The Electrical segment offers standard and special application wiring device products, rough-in electrical products, connector and grounding products, lighting fixtures and controls, and other electrical equipment for use in industrial, commercial, and institutional facilities by electrical contractors, maintenance personnel, electricians, utilities, and telecommunications companies, as well as components and assemblies for the natural gas distribution market.
Recommended Story: Return on Equity (ROE)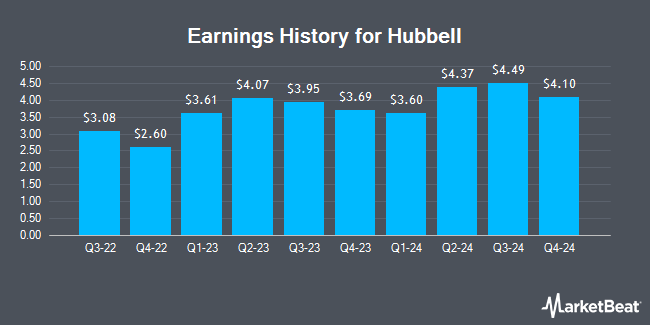 Receive News & Ratings for Hubbell Daily - Enter your email address below to receive a concise daily summary of the latest news and analysts' ratings for Hubbell and related companies with MarketBeat.com's FREE daily email newsletter.