BCE Inc. (BCE) Insider Duc Bernard Le Sells 7,513 Shares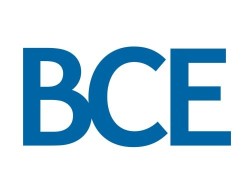 BCE Inc. (TSE:BCE) (NYSE:BCE) insider Duc Bernard Le sold 7,513 shares of the stock in a transaction on Tuesday, November 6th. The stock was sold at an average price of C$52.90, for a total value of C$397,437.70.
TSE BCE traded up C$0.12 during trading hours on Friday, hitting C$54.10. 1,453,900 shares of the company's stock traded hands, compared to its average volume of 1,549,972. BCE Inc. has a 52-week low of C$50.72 and a 52-week high of C$62.90. The company has a quick ratio of 0.38, a current ratio of 0.50 and a debt-to-equity ratio of 116.29.
BCE (TSE:BCE) (NYSE:BCE) last posted its earnings results on Thursday, November 1st. The company reported C$0.96 earnings per share for the quarter, beating the consensus estimate of C$0.93 by C$0.03. The firm had revenue of C$5.88 billion during the quarter, compared to analyst estimates of C$5.86 billion. During the same quarter in the previous year, the firm earned $0.68 earnings per share. As a group, research analysts forecast that BCE Inc. will post 3.66000021832532 earnings per share for the current fiscal year.
The firm also recently announced a quarterly dividend, which will be paid on Tuesday, January 15th. Investors of record on Friday, December 14th will be paid a dividend of $0.755 per share. This represents a $3.02 annualized dividend and a yield of 5.58%. The ex-dividend date of this dividend is Thursday, December 13th. BCE's payout ratio is currently 97.82%.
Several research analysts have commented on BCE shares. Morgan Stanley dropped their price objective on shares of BCE from C$62.00 to C$59.00 in a report on Friday, August 31st. Royal Bank of Canada decreased their price objective on shares of BCE from C$61.00 to C$60.00 and set a "sector perform" rating for the company in a research note on Friday, August 3rd. CIBC decreased their price objective on shares of BCE from C$59.00 to C$58.00 in a research note on Friday, August 3rd. TD Securities reduced their target price on shares of BCE from C$57.00 to C$56.00 and set a "hold" rating on the stock in a research report on Tuesday, October 23rd. Finally, Desjardins raised shares of BCE from a "hold" rating to a "buy" rating and cut their price objective for the company from C$60.75 to C$59.50 in a report on Thursday, October 18th. Three research analysts have rated the stock with a hold rating and three have assigned a buy rating to the stock. The stock has a consensus rating of "Buy" and an average price target of C$59.79.
ILLEGAL ACTIVITY WARNING: This piece of content was posted by The Cerbat Gem and is the sole property of of The Cerbat Gem. If you are viewing this piece of content on another publication, it was stolen and republished in violation of US & international copyright & trademark law. The original version of this piece of content can be viewed at https://www.thecerbatgem.com/2018/11/10/bce-inc-bce-insider-duc-bernard-le-sells-7513-shares.html.
About BCE
BCE Inc, a telecommunications and media company, provides wireless, wireline, Internet, and television (TV) services to residential, business, and wholesale customers in Canada. The company operates through three segments: Bell Wireless, Bell Wireline, and Bell Media. The Bell Wireless segment offers integrated digital wireless voice and data communications products and services.
Featured Article: What does earnings per share mean?

Receive News & Ratings for BCE Daily - Enter your email address below to receive a concise daily summary of the latest news and analysts' ratings for BCE and related companies with MarketBeat.com's FREE daily email newsletter.