Shaftesbury plc (SHB) Receives Average Rating of "Hold" from Analysts
Shaftesbury plc (LON:SHB) has received an average recommendation of "Hold" from the eleven analysts that are presently covering the stock, Marketbeat Ratings reports. Three equities research analysts have rated the stock with a sell rating, seven have issued a hold rating and one has given a buy rating to the company. The average 12-month price target among analysts that have issued a report on the stock in the last year is GBX 967 ($12.64).
A number of analysts have recently weighed in on SHB shares. Peel Hunt reissued a "reduce" rating on shares of Shaftesbury in a research report on Friday, September 28th. Liberum Capital reissued a "hold" rating on shares of Shaftesbury in a research report on Friday, July 20th. Finally, UBS Group reissued a "neutral" rating and issued a GBX 1,000 ($13.07) price objective (down previously from GBX 1,040 ($13.59)) on shares of Shaftesbury in a research report on Wednesday, September 5th.
Shares of LON:SHB traded up GBX 2.50 ($0.03) on Monday, reaching GBX 928.50 ($12.13). The company had a trading volume of 273,145 shares, compared to its average volume of 486,936. Shaftesbury has a 52-week low of GBX 894.50 ($11.69) and a 52-week high of GBX 1,055 ($13.79).
About Shaftesbury
Shaftesbury is a Real Estate Investment Trust, which invests exclusively in the liveliest parts of London's West End. Our objective is to deliver long-term growth in rental income, capital values and shareholder returns. Focussed on restaurants, leisure and retail, our exceptional portfolio now extends to 14.9 acres, clustered mainly in Carnaby, Seven Dials and Chinatown, with substantial ownerships in east and west Covent Garden, Soho and Fitzrovia.
Featured Story: Risk Tolerance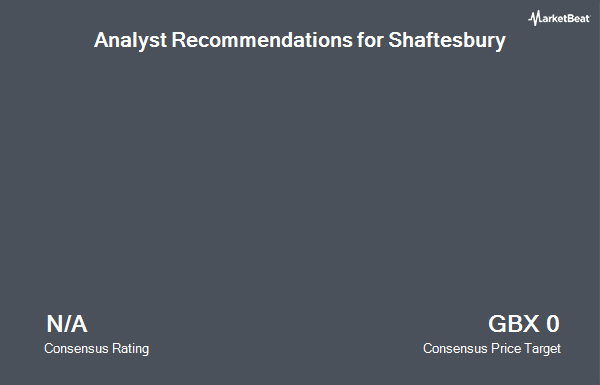 Receive News & Ratings for Shaftesbury Daily - Enter your email address below to receive a concise daily summary of the latest news and analysts' ratings for Shaftesbury and related companies with MarketBeat.com's FREE daily email newsletter.