Trupanion (TRUP) Issues Earnings Results, Beats Estimates By $0.04 EPS
Trupanion (NASDAQ:TRUP) released its quarterly earnings results on Thursday. The financial services provider reported $0.03 earnings per share (EPS) for the quarter, topping analysts' consensus estimates of ($0.01) by $0.04, Briefing.com reports. Trupanion had a negative return on equity of 4.43% and a negative net margin of 0.84%. The firm had revenue of $78.16 million for the quarter, compared to the consensus estimate of $77.70 million. During the same quarter last year, the business posted $0.01 EPS. The firm's quarterly revenue was up 23.8% compared to the same quarter last year.
Trupanion stock traded up $1.00 during mid-day trading on Friday, reaching $27.79. 1,302,605 shares of the company were exchanged, compared to its average volume of 549,922. Trupanion has a twelve month low of $22.55 and a twelve month high of $46.70. The company has a quick ratio of 3.04, a current ratio of 3.04 and a debt-to-equity ratio of 0.16.
In other Trupanion news, insider Darryl Rawlings sold 4,000 shares of the stock in a transaction that occurred on Tuesday, September 11th. The stock was sold at an average price of $34.74, for a total transaction of $138,960.00. Following the completion of the sale, the insider now directly owns 1,285,989 shares of the company's stock, valued at approximately $44,675,257.86. The transaction was disclosed in a legal filing with the Securities & Exchange Commission, which can be accessed through this hyperlink. Insiders have sold a total of 20,450 shares of company stock valued at $668,806 over the last ninety days. 20.70% of the stock is owned by insiders.
A hedge fund recently raised its stake in Trupanion stock. Bank of New York Mellon Corp grew its holdings in Trupanion Inc (NASDAQ:TRUP) by 3.7% in the 2nd quarter, according to its most recent 13F filing with the Securities and Exchange Commission (SEC). The firm owned 84,145 shares of the financial services provider's stock after buying an additional 2,967 shares during the quarter. Bank of New York Mellon Corp owned about 0.26% of Trupanion worth $3,248,000 at the end of the most recent quarter. 93.62% of the stock is owned by institutional investors and hedge funds.
A number of analysts have weighed in on TRUP shares. Raymond James started coverage on Trupanion in a research report on Thursday, September 6th. They set an "outperform" rating and a $46.00 price objective for the company. Craig Hallum started coverage on Trupanion in a research report on Thursday, July 19th. They set a "buy" rating and a $55.00 price objective for the company. CL King raised Trupanion from a "neutral" rating to a "buy" rating in a research report on Tuesday, October 2nd. BidaskClub raised Trupanion from a "sell" rating to a "hold" rating in a research report on Wednesday. Finally, Stifel Nicolaus increased their price objective on Trupanion from $40.00 to $43.00 and gave the stock a "buy" rating in a research report on Friday, August 3rd. Two research analysts have rated the stock with a hold rating and ten have given a buy rating to the company. The stock has a consensus rating of "Buy" and a consensus price target of $45.22.
WARNING: This article was originally reported by The Cerbat Gem and is owned by of The Cerbat Gem. If you are accessing this article on another publication, it was illegally copied and republished in violation of US & international copyright & trademark law. The original version of this article can be viewed at https://www.thecerbatgem.com/2018/11/10/trupanion-trup-issues-earnings-results-beats-estimates-by-0-04-eps.html.
About Trupanion
Trupanion, Inc, together with its subsidiaries, provides medical insurance for cats and dogs on monthly subscription basis in the United States, Canada, and Puerto Rico. The company operates through Subscription Business and Other Business segments. It serves pet owners and veterinarians through third-party referrals and online member acquisition channels.
Featured Article: Penny Stocks, What You Need To Know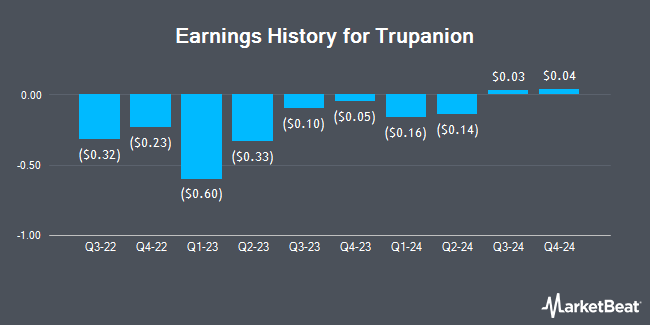 Receive News & Ratings for Trupanion Daily - Enter your email address below to receive a concise daily summary of the latest news and analysts' ratings for Trupanion and related companies with MarketBeat.com's FREE daily email newsletter.