Varex Imaging (VREX) Posts Quarterly Earnings Results, Misses Expectations By $0.01 EPS
Varex Imaging (NASDAQ:VREX) released its quarterly earnings results on Tuesday. The company reported $0.29 EPS for the quarter, missing the Thomson Reuters' consensus estimate of $0.30 by ($0.01), Bloomberg Earnings reports. Varex Imaging had a net margin of 5.39% and a return on equity of 15.16%. The business had revenue of $204.80 million for the quarter, compared to analysts' expectations of $192.10 million. During the same period in the previous year, the company earned $0.59 EPS. Varex Imaging's revenue for the quarter was down 5.1% compared to the same quarter last year. Varex Imaging updated its FY 2019 guidance to $1.25-1.55 EPS and its FY18 guidance to $1.25-1.55 EPS.
Shares of NASDAQ:VREX traded down $0.66 during mid-day trading on Tuesday, reaching $26.11. 889,352 shares of the company traded hands, compared to its average volume of 287,589. The company has a market cap of $1.04 billion, a PE ratio of 14.51, a price-to-earnings-growth ratio of 1.71 and a beta of 1.58. The company has a current ratio of 3.16, a quick ratio of 1.42 and a debt-to-equity ratio of 0.89. Varex Imaging has a 52 week low of $24.06 and a 52 week high of $43.76.
In related news, CFO Clarence R. Verhoef acquired 3,300 shares of the business's stock in a transaction that occurred on Friday, August 17th. The stock was bought at an average cost of $29.58 per share, for a total transaction of $97,614.00. The transaction was disclosed in a legal filing with the SEC, which is available at the SEC website. Insiders own 1.60% of the company's stock.
Several research firms have recently commented on VREX. Jefferies Financial Group reduced their price target on shares of Varex Imaging to $33.00 and set a "buy" rating for the company in a research report on Friday, August 3rd.
ValuEngine
raised shares of Varex Imaging from a "hold" rating to a "buy" rating in a research report on Thursday, July 26th.
Zacks Investment Research
upgraded Varex Imaging from a "strong sell" rating to a "hold" rating in a research note on Thursday, October 4th. Finally, TheStreet downgraded Varex Imaging from a "c-" rating to a "d+" rating in a research note on Friday, October 26th. Four equities research analysts have rated the stock with a hold rating and one has assigned a buy rating to the stock. The company has an average rating of "Hold" and an average price target of $37.00.
COPYRIGHT VIOLATION WARNING: "Varex Imaging (VREX) Posts Quarterly Earnings Results, Misses Expectations By $0.01 EPS" was first published by The Cerbat Gem and is the sole property of of The Cerbat Gem. If you are reading this piece of content on another website, it was stolen and reposted in violation of U.S. & international trademark & copyright legislation. The legal version of this piece of content can be read at https://www.thecerbatgem.com/2018/11/13/varex-imaging-vrex-posts-quarterly-earnings-results-misses-expectations-by-0-01-eps.html.
About Varex Imaging
Varex Imaging Corporation designs and manufactures X-ray imaging components. The company operates in two segments, Medical and Industrial. The Medical segment designs, manufactures, sells, and services X-ray imaging components comprising X-ray tubes, digital flat panel image detectors, high voltage connectors, image-processing software and workstations, computer-aided diagnostic software, collimators, automatic exposure control devices, generators, ionization chambers, and buckys.
Further Reading: Compound Interest and Why It Matters When Investing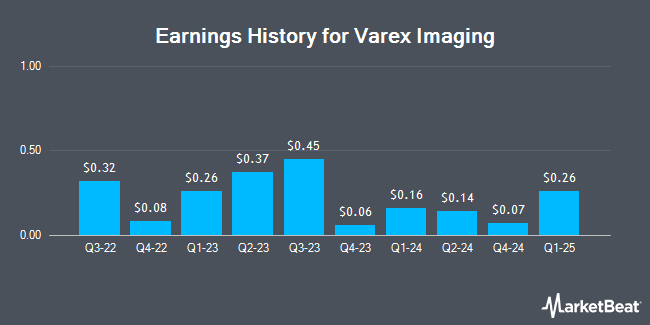 Receive News & Ratings for Varex Imaging Daily - Enter your email address below to receive a concise daily summary of the latest news and analysts' ratings for Varex Imaging and related companies with MarketBeat.com's FREE daily email newsletter.