Avante Logixx Inc (XX) to Post FY2019 Earnings of $0.02 Per Share, Cormark Forecasts
Avante Logixx Inc (CVE:XX) – Cormark issued their FY2019 earnings per share estimates for shares of Avante Logixx in a research report issued on Monday, November 12th. Cormark analyst J. Fenwick forecasts that the company will earn $0.02 per share for the year. Cormark also issued estimates for Avante Logixx's FY2020 earnings at $0.06 EPS.
Avante Logixx stock opened at C$2.19 on Wednesday. The company has a debt-to-equity ratio of 3.66, a quick ratio of 2.34 and a current ratio of 2.74. Avante Logixx has a one year low of C$0.28 and a one year high of C$2.21.
In other Avante Logixx news, Director Leland Verner sold 100,000 shares of Avante Logixx stock in a transaction that occurred on Thursday, September 20th. The stock was sold at an average price of C$0.45, for a total transaction of C$45,000.00.
Avante Logixx Company Profile
Avante Logixx Inc, through its subsidiaries, provides residential and commercial security services. The company offers a suite of home and corporate security services, such as system design, installations, monitoring, and services, including alarm response, patrols, secured transport, close protection, international travel advisory, corporate 911, and incident planning.
Featured Story: Technical Analysis of Stocks and What It Means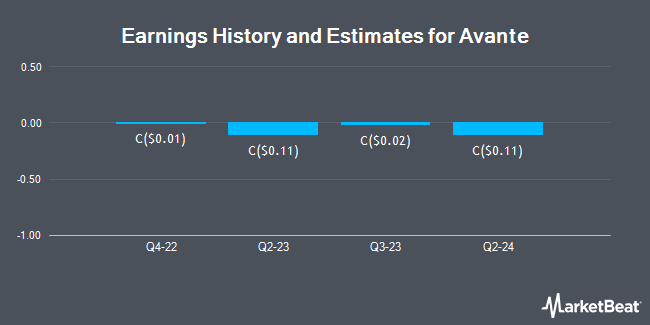 Receive News & Ratings for Avante Logixx Daily - Enter your email address below to receive a concise daily summary of the latest news and analysts' ratings for Avante Logixx and related companies with MarketBeat.com's FREE daily email newsletter.