National Bank Financial Brokers Lower Earnings Estimates for Altus Group Ltd (AIF)
Altus Group Ltd (TSE:AIF) – Analysts at National Bank Financial lowered their FY2018 EPS estimates for shares of Altus Group in a report released on Wednesday, November 7th. National Bank Financial analyst R. Tse now expects that the company will earn $1.18 per share for the year, down from their previous estimate of $1.53. National Bank Financial currently has a "Outperform" rating and a $35.00 target price on the stock. National Bank Financial also issued estimates for Altus Group's Q4 2018 earnings at $0.34 EPS.
A number of other analysts have also recently issued reports on the company. TD Securities cut their price objective on Altus Group from C$40.00 to C$38.00 and set a "buy" rating for the company in a research report on Thursday, November 8th. Royal Bank of Canada cut their price objective on Altus Group from C$38.00 to C$37.00 and set an "outperform" rating for the company in a research report on Monday, November 5th. Finally, CIBC raised their price objective on Altus Group from C$30.00 to C$33.00 in a research report on Monday, October 22nd.
AIF
opened at C$24.05 on Monday. Altus Group has a 12-month low of C$23.99 and a 12-month high of C$37.55. The company has a quick ratio of 2.48, a current ratio of 2.50 and a debt-to-equity ratio of 51.39.
The company also recently declared a quarterly dividend, which was paid on Monday, October 15th. Investors of record on Sunday, September 30th were issued a dividend of $0.15 per share. The ex-dividend date of this dividend was Thursday, September 27th. This represents a $0.60 annualized dividend and a yield of 2.49%. Altus Group's payout ratio is currently -361.45%.
Altus Group Company Profile
Altus Group Limited provides independent advisory services, software, and data solutions to the commercial real estate (CRE) industry. The company operates through Altus Analytics, CRE Consulting, and Geomatics segments. The Altus Analytics segment offers data, analytics software, and technology-related services, such as ARGUS Enterprise (AE), a software for valuation, and portfolio management; ARGUS Developer, a software for feasibility analysis and assessments; ARGUS EstateMaster, a software for development feasibility analysis; ARGUS on Demand, a hosted version of AE and ARGUS Developer; and Voyanta, a cloud-based data management solution.
Recommended Story: Should I follow buy, hold and sell recommendations?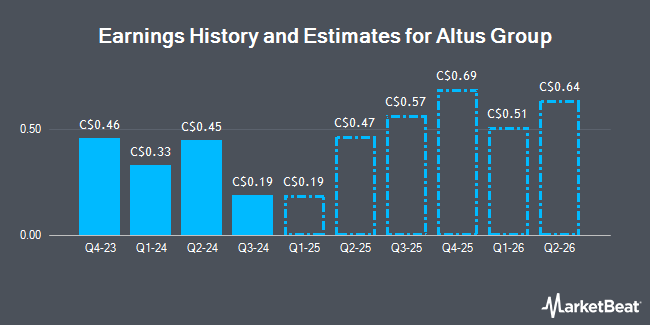 Receive News & Ratings for Altus Group Daily - Enter your email address below to receive a concise daily summary of the latest news and analysts' ratings for Altus Group and related companies with MarketBeat.com's FREE daily email newsletter.