BlackRock Inc. Grows Position in AmeriServ Financial, Inc. (ASRV)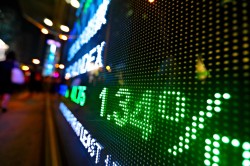 BlackRock Inc. lifted its holdings in AmeriServ Financial, Inc. (NASDAQ:ASRV) by 8.1% during the 2nd quarter, according to its most recent disclosure with the SEC. The institutional investor owned 230,287 shares of the financial services provider's stock after acquiring an additional 17,247 shares during the period. BlackRock Inc.'s holdings in AmeriServ Financial were worth $944,000 as of its most recent filing with the SEC.
ASRV stock opened at $4.27 on Friday. The company has a debt-to-equity ratio of 0.65, a quick ratio of 0.91 and a current ratio of 0.91. AmeriServ Financial, Inc. has a 52 week low of $3.95 and a 52 week high of $4.55. The stock has a market capitalization of $77.51 million, a P/E ratio of 10.24 and a beta of 0.21.
AmeriServ Financial (NASDAQ:ASRV) last released its quarterly earnings results on Tuesday, October 16th. The financial services provider reported $0.13 EPS for the quarter. AmeriServ Financial had a net margin of 7.95% and a return on equity of 7.74%. The business had revenue of $12.70 million for the quarter.
The firm also recently declared a quarterly dividend, which will be paid on Monday, November 19th. Investors of record on Monday, November 5th will be paid a $0.02 dividend. The ex-dividend date of this dividend is Friday, November 2nd. This represents a $0.08 annualized dividend and a dividend yield of 1.87%.
TRADEMARK VIOLATION WARNING: This report was first reported by The Cerbat Gem and is owned by of The Cerbat Gem. If you are accessing this report on another domain, it was stolen and reposted in violation of U.S. & international copyright legislation. The legal version of this report can be read at https://www.thecerbatgem.com/2018/11/16/blackrock-inc-grows-position-in-ameriserv-financial-inc-asrv.html.
AmeriServ Financial Profile
AmeriServ Financial Inc operates as the bank holding company for AmeriServ Financial Bank that provides various consumer, mortgage, and commercial financial products. It offers retail banking services, such as demand, savings, and time deposits; checking and money market accounts; secured and unsecured consumer loans, and mortgage loans; and safe deposit boxes, holiday club accounts, money orders, and traveler's checks.
Featured Article: What are the most popular ETFs
Want to see what other hedge funds are holding ASRV? Visit HoldingsChannel.com to get the latest 13F filings and insider trades for AmeriServ Financial, Inc. (NASDAQ:ASRV).
Receive News & Ratings for AmeriServ Financial Daily - Enter your email address below to receive a concise daily summary of the latest news and analysts' ratings for AmeriServ Financial and related companies with MarketBeat.com's FREE daily email newsletter.