Talktalk Telecom Group (TALK) Rating Reiterated by Deutsche Bank
Deutsche Bank reiterated their buy rating on shares of Talktalk Telecom Group (LON:TALK) in a report released on Monday. The firm currently has a GBX 173 ($2.26) price objective on the stock.
Other analysts have also recently issued research reports about the stock. Morgan Stanley upped their price objective on shares of Talktalk Telecom Group from GBX 120 ($1.57) to GBX 125 ($1.63) and gave the company an equal weight rating in a research report on Tuesday, August 14th. UBS Group restated a neutral rating on shares of Talktalk Telecom Group in a research report on Monday, October 8th. Macquarie reiterated an outperform rating and set a GBX 150 ($1.96) target price on shares of Talktalk Telecom Group in a report on Friday, November 9th. Barclays upgraded Talktalk Telecom Group to an overweight rating and increased their target price for the stock from GBX 130 ($1.70) to GBX 150 ($1.96) in a report on Thursday, August 23rd. Finally, Numis Securities reiterated a reduce rating on shares of Talktalk Telecom Group in a report on Wednesday, July 18th. Five equities research analysts have rated the stock with a sell rating, six have assigned a hold rating and four have assigned a buy rating to the company. The stock has an average rating of Hold and an average price target of GBX 116.38 ($1.52).
TALK opened at GBX 122.90 ($1.61) on Monday. Talktalk Telecom Group has a 12 month low of GBX 88.60 ($1.16) and a 12 month high of GBX 220 ($2.87).
About Talktalk Telecom Group
TalkTalk Telecom Group PLC is a provider of fixed line broadband, voice telephony, mobile and television services. The Company serves over four million residential and business customers under the TalkTalk and TalkTalk Business brands. TalkTalk residential packages offer broadband, phone, television and mobile services.
Featured Story: Investing in Dividend Stocks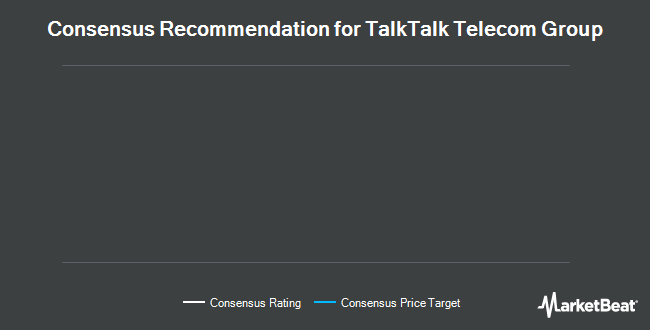 Receive News & Ratings for Talktalk Telecom Group Daily - Enter your email address below to receive a concise daily summary of the latest news and analysts' ratings for Talktalk Telecom Group and related companies with MarketBeat.com's FREE daily email newsletter.