Analysts Expect National Bank Holdings Corp (NBHC) Will Post Earnings of $0.57 Per Share
Wall Street analysts predict that National Bank Holdings Corp (NYSE:NBHC) will announce earnings of $0.57 per share for the current quarter, Zacks Investment Research reports. Two analysts have made estimates for National Bank's earnings. The lowest EPS estimate is $0.56 and the highest is $0.57. National Bank posted earnings of $0.36 per share during the same quarter last year, which would suggest a positive year-over-year growth rate of 58.3%. The firm is expected to announce its next earnings results on Thursday, January 24th.
According to Zacks, analysts expect that National Bank will report full-year earnings of $2.16 per share for the current year, with EPS estimates ranging from $2.13 to $2.18. For the next fiscal year, analysts anticipate that the business will post earnings of $2.31 per share, with EPS estimates ranging from $2.26 to $2.40. Zacks' EPS averages are a mean average based on a survey of research analysts that that provide coverage for National Bank.
National Bank (NYSE:NBHC) last released its quarterly earnings results on Tuesday, October 23rd. The financial services provider reported $0.58 earnings per share (EPS) for the quarter, beating analysts' consensus estimates of $0.55 by $0.03. National Bank had a net margin of 12.64% and a return on equity of 9.62%. The firm had revenue of $68.96 million for the quarter, compared to analysts' expectations of $70.79 million. During the same quarter last year, the company earned $0.26 EPS. The firm's revenue for the quarter was up 40.8% compared to the same quarter last year.
A number of equities research analysts recently issued reports on NBHC shares. Stephens set a $41.00 price target on shares of National Bank and gave the company a "hold" rating in a research note on Tuesday, October 23rd.
Zacks Investment Research
raised shares of National Bank from a "hold" rating to a "buy" rating and set a $40.00 price target on the stock in a research note on Saturday, November 17th. Six research analysts have rated the stock with a hold rating and one has issued a buy rating to the company. National Bank has an average rating of "Hold" and a consensus target price of $39.33.
In related news, Director Robert E. Dean sold 3,771 shares of National Bank stock in a transaction on Friday, September 7th. The shares were sold at an average price of $39.50, for a total value of $148,954.50. Following the sale, the director now owns 21,814 shares of the company's stock, valued at approximately $861,653. The transaction was disclosed in a filing with the Securities & Exchange Commission, which is available through this hyperlink. 7.60% of the stock is currently owned by company insiders.
Institutional investors and hedge funds have recently made changes to their positions in the business. UBS Group AG boosted its stake in National Bank by 60.8% during the 1st quarter. UBS Group AG now owns 5,863 shares of the financial services provider's stock worth $195,000 after purchasing an additional 2,216 shares during the last quarter. Teacher Retirement System of Texas acquired a new stake in National Bank during the 2nd quarter worth $202,000. Commonwealth of Pennsylvania Public School Empls Retrmt SYS acquired a new stake in National Bank during the 2nd quarter worth $222,000. Piedmont Investment Advisors LLC acquired a new stake in National Bank during the 2nd quarter worth $245,000. Finally, Convergence Investment Partners LLC acquired a new stake in National Bank during the 2nd quarter worth $336,000. 92.69% of the stock is currently owned by institutional investors.
National Bank stock traded up $0.02 during trading on Friday, reaching $35.26. The company had a trading volume of 125,229 shares, compared to its average volume of 162,129. National Bank has a 1-year low of $30.98 and a 1-year high of $41.44. The stock has a market capitalization of $1.08 billion, a P/E ratio of 27.94, a P/E/G ratio of 1.63 and a beta of 0.91. The company has a debt-to-equity ratio of 0.21, a quick ratio of 0.85 and a current ratio of 0.87.
The business also recently declared a quarterly dividend, which will be paid on Friday, December 14th. Investors of record on Friday, November 30th will be paid a $0.17 dividend. The ex-dividend date is Thursday, November 29th. This represents a $0.68 dividend on an annualized basis and a yield of 1.93%. This is a boost from National Bank's previous quarterly dividend of $0.14. National Bank's dividend payout ratio (DPR) is currently 53.97%.
About National Bank
National Bank Holdings Corporation operates as the bank holding company for NBH Bank, N.A. that provides various banking products and financial services to commercial, business, and consumer clients in the United States. The company offers deposit products, including checking accounts, savings accounts, money market accounts, and other deposit accounts, including fixed-rate and fixed maturity time deposits.
Read More: Earnings Per Share (EPS)

Get a free copy of the Zacks research report on National Bank (NBHC)
For more information about research offerings from Zacks Investment Research, visit Zacks.com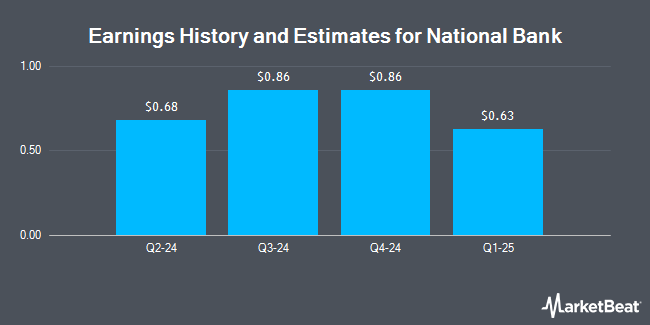 Receive News & Ratings for National Bank Daily - Enter your email address below to receive a concise daily summary of the latest news and analysts' ratings for National Bank and related companies with MarketBeat.com's FREE daily email newsletter.