Avast (AVST) Now Covered by Analysts at JPMorgan Chase & Co.
JPMorgan Chase & Co. initiated coverage on shares of Avast (LON:AVST) in a research report report published on Thursday. The firm issued a neutral rating and a GBX 310 ($4.05) price target on the stock.
Other equities research analysts have also recently issued reports about the stock. UBS Group restated a buy rating on shares of Avast in a report on Tuesday, September 25th. Credit Suisse Group reiterated an outperform rating on shares of Avast in a research note on Thursday, November 1st. Finally, Barclays boosted their price objective on shares of Avast from GBX 300 ($3.92) to GBX 350 ($4.57) and gave the company an overweight rating in a research note on Tuesday, October 9th. One investment analyst has rated the stock with a hold rating and four have assigned a buy rating to the company. The company presently has a consensus rating of Buy and a consensus price target of GBX 326 ($4.26).
Shares of Avast stock traded down GBX 0.55 ($0.01) during midday trading on Thursday, reaching GBX 295 ($3.85). The company had a trading volume of 1,103,338 shares.
Avast Company Profile
Avast Plc and its subsidiaries provide digital security products under the Avast and AVG brands worldwide. It operates through two segments, Consumer and Small and Medium Business (SMB). The company offers products and solutions for protection, performance, privacy, and additional tools for desktop security, server protection, and mobile device protection; and big data and marketing analytics, as well as provides security solutions designed for small businesses.
Featured Article: How to Calculate Compound Annual Growth Rate (CAGR)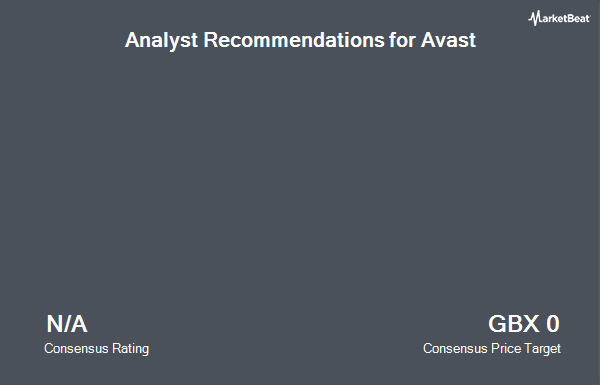 Receive News & Ratings for Avast Daily - Enter your email address below to receive a concise daily summary of the latest news and analysts' ratings for Avast and related companies with MarketBeat.com's FREE daily email newsletter.