Petrofac (PFC) Upgraded at Jefferies Financial Group
Jefferies Financial Group upgraded shares of Petrofac (LON:PFC) to a buy rating in a report published on Monday. The firm currently has GBX 590 ($7.71) target price on the stock, down from their prior target price of GBX 640 ($8.36).
A number of other equities analysts have also recently weighed in on PFC. Kepler Capital Markets raised shares of Petrofac to a buy rating and upped their price objective for the company from GBX 700 ($9.15) to GBX 720 ($9.41) in a research report on Wednesday, December 19th. Barclays upped their price objective on shares of Petrofac from GBX 850 ($11.11) to GBX 1,000 ($13.07) and gave the company an overweight rating in a research report on Wednesday, October 10th. Four equities research analysts have rated the stock with a hold rating and six have assigned a buy rating to the company. Petrofac presently has an average rating of Buy and an average target price of GBX 693.50 ($9.06).
Shares of LON PFC opened at GBX 540.40 ($7.06) on Monday. Petrofac has a 12-month low of GBX 345.20 ($4.51) and a 12-month high of GBX 941 ($12.30).
In other news, insider David Davies acquired 948 shares of the firm's stock in a transaction on Monday, January 7th. The stock was bought at an average cost of GBX 527 ($6.89) per share, with a total value of £4,995.96 ($6,528.11).
About Petrofac
Petrofac Limited, an oilfield service company, provides facilities solutions to the oil and gas production and processing industry worldwide. It operates through three segments: Engineering & Construction, Engineering & Production Services, and Integrated Energy Services. The Engineering & Construction segment provides engineering, procurement, and construction project execution services to the onshore oil and gas industry.
Featured Article: Balanced Fund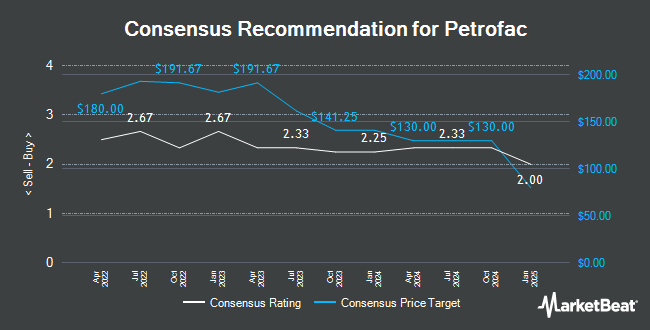 Receive News & Ratings for Petrofac Daily - Enter your email address below to receive a concise daily summary of the latest news and analysts' ratings for Petrofac and related companies with MarketBeat.com's FREE daily email newsletter.