GSI Technology (GSIT) Set to Announce Earnings on Thursday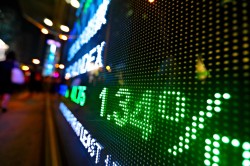 GSI Technology (NASDAQ:GSIT) will be releasing its earnings data after the market closes on Thursday, January 31st.
GSI Technology (NASDAQ:GSIT) last issued its quarterly earnings data on Thursday, October 25th. The semiconductor company reported ($0.02) earnings per share (EPS) for the quarter. The company had revenue of $12.83 million for the quarter. GSI Technology had a negative return on equity of 3.75% and a negative net margin of 7.02%.
Shares of GSIT opened at $8.24 on Thursday. GSI Technology has a 52-week low of $4.62 and a 52-week high of $8.94.
COPYRIGHT VIOLATION NOTICE: "GSI Technology (GSIT) Set to Announce Earnings on Thursday" was reported by The Cerbat Gem and is owned by of The Cerbat Gem. If you are reading this news story on another domain, it was copied illegally and republished in violation of U.S. & international copyright & trademark law. The original version of this news story can be read at https://www.thecerbatgem.com/2019/01/24/gsi-technology-gsit-set-to-announce-earnings-on-thursday.html.
GSI Technology Company Profile
GSI Technology, Inc, a fabless semiconductor company, designs, develops, and markets memory products primarily for the networking and telecommunications markets in the United States, China, Singapore, the Netherlands, and internationally. It offers synchronous static random access memory (SRAM) products, such as BurstRAMs for microprocessor cache applications; No Bus Turnaround SRAMs to address the needs of moderate performance networking applications; SigmaQuad and SigmaDDR products that are double data rate and quad data rate synchronous SRAMs; and radiation-hardened SRAMs for aerospace and military applications, such as networking satellites and missiles.
Recommended Story: How Do Front-End Loads Impact an Investment?
Receive News & Ratings for GSI Technology Daily - Enter your email address below to receive a concise daily summary of the latest news and analysts' ratings for GSI Technology and related companies with MarketBeat.com's FREE daily email newsletter.