UBS Group Reaffirms Neutral Rating for GlaxoSmithKline (GSK)

UBS Group reissued their neutral rating on shares of GlaxoSmithKline (LON:GSK) in a research report sent to investors on Monday morning, www.boersen-zeitung.de reports. The firm currently has a GBX 1,650 ($21.56) price target on the stock.
Other analysts have also issued research reports about the company. Barclays lowered GlaxoSmithKline to an equal weight rating and reduced their target price for the company from GBX 1,750 ($22.87) to GBX 1,600 ($20.91) in a report on Tuesday, December 4th. Goldman Sachs Group set a GBX 1,900 ($24.83) target price on GlaxoSmithKline and gave the company a buy rating in a report on Monday, December 3rd. Jefferies Financial Group increased their target price on GlaxoSmithKline from GBX 1,725 ($22.54) to GBX 1,750 ($22.87) and gave the company a buy rating in a report on Tuesday, December 11th. Shore Capital lowered GlaxoSmithKline to a hold rating in a report on Friday, January 18th. Finally, Kepler Capital Markets restated a hold rating on shares of GlaxoSmithKline in a report on Tuesday, December 4th. Two equities research analysts have rated the stock with a sell rating, eleven have assigned a hold rating and five have given a buy rating to the stock. The company has a consensus rating of Hold and an average price target of GBX 1,518.15 ($19.84).
GSK opened at GBX 1,506.40 ($19.68) on Monday. GlaxoSmithKline has a 12-month low of GBX 1,235.20 ($16.14) and a 12-month high of GBX 1,724.50 ($22.53).
The company also recently disclosed a dividend, which will be paid on Thursday, April 11th. Investors of record on Thursday, February 21st will be issued a dividend of GBX 23 ($0.30) per share. This represents a dividend yield of 1.49%. This is a positive change from GlaxoSmithKline's previous dividend of $19.00. The ex-dividend date of this dividend is Thursday, February 21st.
In related news, insider Emma Walmsley sold 66,159 shares of the stock in a transaction on Friday, February 15th. The stock was sold at an average price of GBX 1,585 ($20.71), for a total transaction of £1,048,620.15 ($1,370,207.96). Also, insider Jesse Goodman acquired 845 shares of the business's stock in a transaction that occurred on Wednesday, February 6th. The shares were purchased at an average price of GBX 1,964 ($25.66) per share, with a total value of £16,595.80 ($21,685.35). Over the last quarter, insiders have purchased 3,881 shares of company stock valued at $6,356,144.
GlaxoSmithKline Company Profile
GlaxoSmithKline plc engages in the creation, discovery, development, manufacture, and marketing of vaccines, over-the-counter medicines, and health-related consumer products worldwide. It operates through four segments: Pharmaceuticals, Pharmaceuticals R&D, Vaccines, and Consumer Healthcare. The company offers pharmaceutical products comprising medicines in the therapeutic areas, such as respiratory, anti-virals, central nervous system, cardiovascular and urogenital, metabolic, anti-bacterials, dermatology, rare diseases, immuno-inflammation, and HIV, as well as vaccines.
See Also: Short Selling – Explanation For Shorting Stocks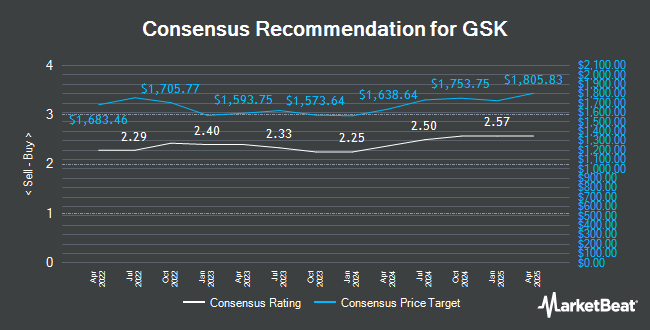 Receive News & Ratings for GlaxoSmithKline Daily - Enter your email address below to receive a concise daily summary of the latest news and analysts' ratings for GlaxoSmithKline and related companies with MarketBeat.com's FREE daily email newsletter.