Brink's Declares Quarterly Dividend of $0.15 (NYSE:BCO)
July 12th, 2019
-
By Renee Jackson - Comments Off

on Brink's Declares Quarterly Dividend of $0.15 (NYSE:BCO)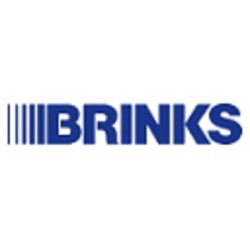 Brink's (NYSE:BCO) announced a quarterly dividend on Thursday, July 11th, RTT News reports. Investors of record on Monday, July 29th will be paid a dividend of 0.15 per share by the business services provider on Tuesday, September 3rd. This represents a $0.60 dividend on an annualized basis and a dividend yield of 0.69%.
Brink's stock traded up $0.16 during midday trading on Friday, reaching $87.09. The company's stock had a trading volume of 67,044 shares, compared to its average volume of 296,547. The stock's 50-day simple moving average is $81.24. The company has a debt-to-equity ratio of 8.90, a current ratio of 1.37 and a quick ratio of 1.37. Brink's has a 52-week low of $59.08 and a 52-week high of $87.59. The firm has a market capitalization of $4.34 billion, a PE ratio of 25.17, a P/E/G ratio of 1.40 and a beta of 1.45.
Brink's (NYSE:BCO) last released its quarterly earnings results on Wednesday, April 24th. The business services provider reported $0.79 EPS for the quarter, beating analysts' consensus estimates of $0.72 by $0.07. Brink's had a positive return on equity of 86.38% and a negative net margin of 1.19%. The company had revenue of $905.00 million during the quarter, compared to analysts' expectations of $914.08 million. During the same period last year, the business posted $0.65 earnings per share. The firm's revenue was up 6.1% compared to the same quarter last year. Equities research analysts predict that Brink's will post 4.22 earnings per share for the current year.
Separately,
Zacks Investment Research
cut Heritage Insurance from a "hold" rating to a "strong sell" rating in a research note on Friday, April 26th. Two investment analysts have rated the stock with a hold rating and two have given a buy rating to the company. Brink's has a consensus rating of "Buy" and an average price target of $90.00.
In other news, EVP Amit Zukerman sold 5,000 shares of the firm's stock in a transaction that occurred on Monday, April 29th. The stock was sold at an average price of $80.00, for a total value of $400,000.00. The transaction was disclosed in a filing with the SEC, which is available at the SEC website. Also, insider Thomas Colan sold 6,374 shares of the firm's stock in a transaction that occurred on Thursday, April 25th. The shares were sold at an average price of $83.51, for a total value of $532,292.74. The disclosure for this sale can be found here. In the last 90 days, insiders sold 33,320 shares of company stock worth $2,686,656. Company insiders own 1.05% of the company's stock.
Brink's Company Profile
The Brink's Company provides secure transportation, cash management, and other security-related services in North America, South America, and internationally. The company offers cash-in-transit services, including armored vehicle transportation of valuables; automated teller machine (ATM) services, such as cash replenishment, replenishment forecasting, cash optimization, ATM remote monitoring, service call dispatching, transaction processing, installation, and first and second line maintenance; and network infrastructure services.
See Also: Rule of 72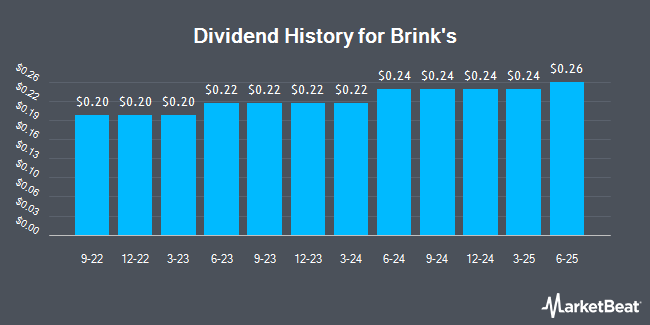 Receive News & Ratings for Brink's Daily - Enter your email address below to receive a concise daily summary of the latest news and analysts' ratings for Brink's and related companies with MarketBeat.com's FREE daily email newsletter.