Northstar Realty Europe Corp (NRE) to Issue Quarterly Dividend of $0.15 on August 23rd
August 14th, 2019
-
By Scott Moore - Comments Off

on Northstar Realty Europe Corp (NRE) to Issue Quarterly Dividend of $0.15 on August 23rd
Northstar Realty Europe Corp (NYSE:NRE) declared a quarterly dividend on Friday, August 2nd, NASDAQ reports. Investors of record on Monday, August 19th will be given a dividend of 0.15 per share by the financial services provider on Friday, August 23rd. This represents a $0.60 annualized dividend and a yield of 3.52%. The ex-dividend date is Friday, August 16th.
Northstar Realty Europe has increased its dividend payment by an average of 58.7% per year over the last three years. Northstar Realty Europe has a dividend payout ratio of 62.5% meaning its dividend is sufficiently covered by earnings. Equities research analysts expect Northstar Realty Europe to earn $0.56 per share next year, which means the company may not be able to cover its $0.60 annual dividend with an expected future payout ratio of 107.1%.
NRE stock traded down $0.01 during midday trading on Wednesday, hitting $17.05. The company's stock had a trading volume of 1,735 shares, compared to its average volume of 540,668. Northstar Realty Europe has a 12 month low of $12.50 and a 12 month high of $18.44. The company has a current ratio of 0.69, a quick ratio of 0.69 and a debt-to-equity ratio of 0.01. The business has a 50-day simple moving average of $16.84.
Northstar Realty Europe (NYSE:NRE) last released its quarterly earnings data on Wednesday, August 7th. The financial services provider reported $0.13 earnings per share (EPS) for the quarter, missing the consensus estimate of $0.16 by ($0.03). The business had revenue of $18.16 million during the quarter, compared to the consensus estimate of $18.69 million. Northstar Realty Europe had a net margin of 190.52% and a return on equity of 5.70%. On average, research analysts predict that Northstar Realty Europe will post 0.55 earnings per share for the current year.
NRE has been the topic of several analyst reports. Zacks Investment Research cut Northstar Realty Europe from a "buy" rating to a "hold" rating in a research report on Thursday, July 11th. JMP Securities cut Northstar Realty Europe from a "mkt outperform" rating to a "market perform" rating in a report on Friday, July 5th. Finally, B. Riley set a $17.00 price target on Northstar Realty Europe and gave the company a "hold" rating in a report on Friday, July 5th. Three research analysts have rated the stock with a hold rating and one has issued a buy rating to the stock. Northstar Realty Europe currently has an average rating of "Hold" and an average target price of $18.00.
Northstar Realty Europe Company Profile
NorthStar Realty Europe Corp. is a European focused commercial real estate company with predominately prime office properties within key cities in Germany, the United Kingdom and France, organized as a REIT and managed by an affiliate of Colony Capital, Inc (NYSE: CLNY), a leading global equity REIT with an embedded investment management platform.
See Also: What is the quiet period?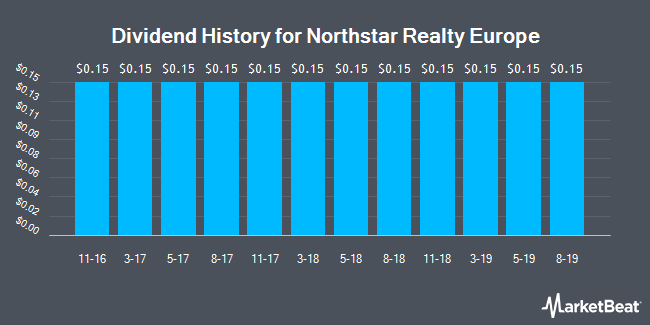 Receive News & Ratings for Northstar Realty Europe Daily - Enter your email address below to receive a concise daily summary of the latest news and analysts' ratings for Northstar Realty Europe and related companies with MarketBeat.com's FREE daily email newsletter.