Short Interest in Tantech Holdings Ltd (NASDAQ:TANH) Declines By 13.4%
September 14th, 2019
-
By Renee Jackson - Comments Off

on Short Interest in Tantech Holdings Ltd (NASDAQ:TANH) Declines By 13.4%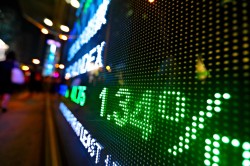 Tantech Holdings Ltd (NASDAQ:TANH) was the target of a large drop in short interest in August. As of August 31st, there was short interest totalling 94,400 shares, a drop of 13.4% from the July 31st total of 109,000 shares. Approximately 0.6% of the company's stock are short sold. Based on an average trading volume of 86,500 shares, the short-interest ratio is currently 1.1 days.
Shares of NASDAQ TANH traded up $0.01 during midday trading on Friday, hitting $1.55. 145,114 shares of the company's stock were exchanged, compared to its average volume of 193,120. Tantech has a twelve month low of $1.40 and a twelve month high of $1.94. The firm's fifty day simple moving average is $1.48 and its 200-day simple moving average is $1.51.
Separately, ValuEngine lowered Tantech from a "hold" rating to a "sell" rating in a research report on Friday, August 2nd.
A hedge fund recently bought a new stake in Tantech stock. Jane Street Group LLC bought a new position in shares of Tantech Holdings Ltd (NASDAQ:TANH) during the 2nd quarter, according to the company in its most recent Form 13F filing with the SEC. The firm bought 43,923 shares of the basic materials company's stock, valued at approximately $65,000. Jane Street Group LLC owned approximately 0.15% of Tantech as of its most recent filing with the SEC. Institutional investors own 1.80% of the company's stock.
About Tantech
Tantech Holdings Ltd. develops and manufactures bamboo-based charcoal products in the People's Republic of China and internationally. The company operates through three segments: Consumer Products, Trading, and Electric Vehicle. It produces pressed and formed charcoal briquettes for use in grills, incense burners, and other applications under the Algold brand.
Featured Story: Diversification For Individual Investors

Receive News & Ratings for Tantech Daily - Enter your email address below to receive a concise daily summary of the latest news and analysts' ratings for Tantech and related companies with MarketBeat.com's FREE daily email newsletter.