Compass Diversified Holdings to Issue Quarterly Dividend of $0.36 (NYSE:CODI)
October 14th, 2019
-
By Scott Moore - Comments Off

on Compass Diversified Holdings to Issue Quarterly Dividend of $0.36 (NYSE:CODI)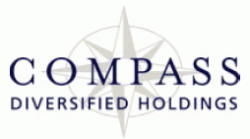 Compass Diversified Holdings (NYSE:CODI) declared a quarterly dividend on Thursday, October 3rd, Zacks reports. Investors of record on Thursday, October 17th will be given a dividend of 0.36 per share by the financial services provider on Thursday, October 24th. This represents a $1.44 dividend on an annualized basis and a yield of 7.29%. The ex-dividend date is Wednesday, October 16th.
Compass Diversified has a dividend payout ratio of 76.2% indicating that its dividend is currently covered by earnings, but may not be in the future if the company's earnings tumble. Analysts expect Compass Diversified to earn $1.75 per share next year, which means the company should continue to be able to cover its $1.44 annual dividend with an expected future payout ratio of 82.3%.
CODI traded up $0.21 during midday trading on Monday, reaching $19.75. 100,258 shares of the company were exchanged, compared to its average volume of 111,337. The company has a debt-to-equity ratio of 0.88, a quick ratio of 3.47 and a current ratio of 4.97. The company's fifty day moving average price is $19.08 and its 200 day moving average price is $18.08. The company has a market cap of $1.17 billion, a price-to-earnings ratio of 13.71 and a beta of 1.12. Compass Diversified has a one year low of $11.60 and a one year high of $20.09.
Compass Diversified (NYSE:CODI) last released its earnings results on Wednesday, July 31st. The financial services provider reported $0.36 earnings per share (EPS) for the quarter, missing the consensus estimate of $0.41 by ($0.05). The business had revenue of $336.08 million during the quarter, compared to the consensus estimate of $434.14 million. Compass Diversified had a net margin of 19.72% and a return on equity of 10.60%. As a group, sell-side analysts anticipate that Compass Diversified will post 1.56 earnings per share for the current fiscal year.
Several research firms have recently issued reports on CODI. Raymond James lowered Compass Diversified from an "outperform" rating to a "market perform" rating in a report on Thursday, August 1st. They noted that the move was a valuation call. TheStreet raised Compass Diversified from a "c+" rating to a "b-" rating in a report on Thursday, August 8th. Roth Capital began coverage on Compass Diversified in a report on Monday, July 29th. They issued a "buy" rating and a $21.50 target price for the company. Finally, Zacks Investment Research raised Compass Diversified from a "sell" rating to a "hold" rating in a report on Tuesday, September 17th.
In other news, insider Ryan J. Faulkingham acquired 3,000 shares of Compass Diversified stock in a transaction on Tuesday, August 6th. The stock was acquired at an average cost of $18.44 per share, with a total value of $55,320.00. Following the completion of the acquisition, the insider now owns 9,900 shares in the company, valued at $182,556. The acquisition was disclosed in a legal filing with the Securities & Exchange Commission, which is available through this link. Also, insider Gordon M. Burns sold 48,300 shares of the stock in a transaction on Friday, August 9th. The shares were sold at an average price of $19.21, for a total value of $927,843.00. Following the transaction, the insider now directly owns 56,090 shares of the company's stock, valued at $1,077,488.90. The disclosure for this sale can be found here. Corporate insiders own 3.70% of the company's stock.
Compass Diversified Company Profile
Compass Diversified Holdings LLC is a private equity firm specializing in acquisitions, buyouts, industry consolidation, recapitalization, and middle market investments. It seeks to invest in niche industrial or branded consumer companies, manufacturing, distribution, consumer products, business services sector, safety & security, electronic components, food, foodservice.
Further Reading: S&P 500 Index
Receive News & Ratings for Compass Diversified Daily - Enter your email address below to receive a concise daily summary of the latest news and analysts' ratings for Compass Diversified and related companies with MarketBeat.com's FREE daily email newsletter.