Pope Resources (NASDAQ:POPE) Raised to "Strong-Buy" at BidaskClub
November 18th, 2019
-
By Scott Moore - Comments Off

on Pope Resources (NASDAQ:POPE) Raised to "Strong-Buy" at BidaskClub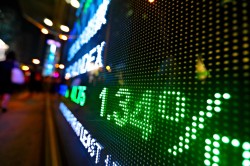 BidaskClub upgraded shares of Pope Resources (NASDAQ:POPE) from a buy rating to a strong-buy rating in a research report sent to investors on Friday, BidAskClub reports.
Separately, TheStreet upgraded shares of Pope Resources from a c+ rating to a b- rating in a research report on Wednesday, September 25th.
Shares of POPE stock traded up $1.36 during trading hours on Friday, hitting $86.80. The company's stock had a trading volume of 700 shares, compared to its average volume of 2,509. The business has a fifty day moving average of $76.04 and a 200-day moving average of $70.87. The stock has a market cap of $358.65 million, a price-to-earnings ratio of 62.87 and a beta of 0.28. Pope Resources has a twelve month low of $62.50 and a twelve month high of $87.00. The company has a current ratio of 0.33, a quick ratio of 0.33 and a debt-to-equity ratio of 0.38.
The firm also recently declared a quarterly dividend, which will be paid on Monday, December 16th. Stockholders of record on Monday, December 2nd will be given a $1.00 dividend. The ex-dividend date is Friday, November 29th. This represents a $4.00 annualized dividend and a dividend yield of 4.61%.
A hedge fund recently raised its stake in Pope Resources stock. Hunter Associates Investment Management LLC grew its holdings in Pope Resources (NASDAQ:POPE) by 21.2% during the 2nd quarter, according to its most recent Form 13F filing with the Securities and Exchange Commission (SEC). The fund owned 8,300 shares of the construction company's stock after purchasing an additional 1,450 shares during the quarter. Hunter Associates Investment Management LLC owned approximately 0.19% of Pope Resources worth $566,000 at the end of the most recent quarter. Hedge funds and other institutional investors own 8.68% of the company's stock.
About Pope Resources
Pope Resources, A Delaware Limited Partnership manages timber resources in the United States. The company operates in four segments: Partnership Timber, Funds Timber, Timberland Investment Management, and Real Estate. It is involved in growing, managing, harvesting, and marketing timber from the Partnership's 120,000 acres of direct timberland ownership in Washington; and private equity timber funds' 134,000 acres of timberland in Washington, Oregon, and California that co-owned with third-party investors.
Featured Article: Dividend Stocks – Are They Right For You?

Receive News & Ratings for Pope Resources Daily - Enter your email address below to receive a concise daily summary of the latest news and analysts' ratings for Pope Resources and related companies with MarketBeat.com's FREE daily email newsletter.