X Financial (XYF) Scheduled to Post Earnings on Thursday
November 19th, 2019
-
By Scott Moore - Comments Off

on X Financial (XYF) Scheduled to Post Earnings on Thursday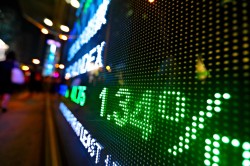 X Financial (NYSE:XYF) is scheduled to issue its quarterly earnings data before the market opens on Thursday, November 21st. Parties interested in participating in the company's conference call can do so using this link.
X Financial (NYSE:XYF) last posted its quarterly earnings results on Sunday, August 18th. The company reported $0.27 earnings per share for the quarter. The firm had revenue of $117.93 million for the quarter. X Financial had a return on equity of 26.58% and a net margin of 29.18%.
NYSE:XYF opened at $1.96 on Tuesday. The firm has a market capitalization of $304.21 million, a price-to-earnings ratio of 2.30 and a beta of 2.08. X Financial has a 1-year low of $1.69 and a 1-year high of $7.92. The business's fifty day moving average price is $1.98 and its 200 day moving average price is $3.15.
Separately,
ValuEngine
raised X Financial from a "sell" rating to a "hold" rating in a research report on Wednesday, October 2nd.
X Financial Company Profile
X Financial provides personal finance services in the People's Republic of China. The company offers a suite of products connecting borrowers and investors through a proprietary Internet platform. It provides loan products, which include Xiaoying card loan and Xiaoying preferred loan; and investment opportunities through wealth management platform, Xiaoying wealth management with insurance protection.
See Also: Profit margin is different from the revenue

Receive News & Ratings for X Financial Daily - Enter your email address below to receive a concise daily summary of the latest news and analysts' ratings for X Financial and related companies with MarketBeat.com's FREE daily email newsletter.