Continental AG (OTCMKTS:CTTAY) Receives Consensus Recommendation of "Hold" from Analysts
November 21st, 2019
-
By Teresa Graham - Comments Off

on Continental AG (OTCMKTS:CTTAY) Receives Consensus Recommendation of "Hold" from Analysts
Shares of Continental AG (OTCMKTS:CTTAY) have been given a consensus rating of "Hold" by the twelve analysts that are covering the company, MarketBeat.com reports. Three research analysts have rated the stock with a sell recommendation, eight have given a hold recommendation and one has assigned a buy recommendation to the company.
CTTAY has been the topic of a number of analyst reports. Barclays lowered Continental from an "equal weight" rating to an "underweight" rating in a report on Tuesday, October 8th. ValuEngine raised Continental from a "hold" rating to a "buy" rating in a report on Thursday, November 14th. Bank of America lowered Continental from a "buy" rating to a "neutral" rating in a report on Friday, August 23rd. Deutsche Bank lowered Continental from a "buy" rating to a "hold" rating in a report on Tuesday, August 20th. Finally, Goldman Sachs Group downgraded Continental from a "buy" rating to a "neutral" rating in a research note on Monday, August 19th.
Shares of OTCMKTS CTTAY traded up $0.05 during mid-day trading on Monday, reaching $13.42. 57,928 shares of the company traded hands, compared to its average volume of 189,140. The company has a debt-to-equity ratio of 0.12, a quick ratio of 0.74 and a current ratio of 1.03. The stock has a market cap of $27.56 billion, a PE ratio of 7.85, a price-to-earnings-growth ratio of 6.00 and a beta of 1.29. The company's fifty day moving average is $13.38 and its two-hundred day moving average is $13.58. Continental has a fifty-two week low of $11.50 and a fifty-two week high of $17.84.
Continental (OTCMKTS:CTTAY) last issued its quarterly earnings data on Tuesday, November 12th. The company reported ($1.10) EPS for the quarter. The company had revenue of $12.35 billion for the quarter. Continental had a negative net margin of 0.38% and a negative return on equity of 0.77%. Research analysts forecast that Continental will post 1.04 earnings per share for the current year.
About Continental
Continental Aktiengesellschaft develops products, systems, and services for customers in various industries worldwide. The company operates through Chassis & Safety, Powertrain, Interior, Tires, and ContiTech segments. The Chassis & Safety segment develops, produces, and markets intelligent systems to enhance driving safety and vehicle dynamics.
Recommended Story: What Does a Sell-Side Analyst Rating Mean?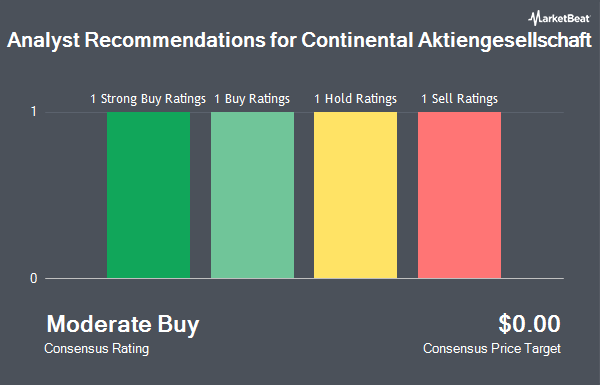 Receive News & Ratings for Continental Daily - Enter your email address below to receive a concise daily summary of the latest news and analysts' ratings for Continental and related companies with MarketBeat.com's FREE daily email newsletter.