ValuEngine Lowers Randolph Bancorp (NASDAQ:RNDB) to Sell
December 5th, 2019
-
By Scott Moore - Comments Off

on ValuEngine Lowers Randolph Bancorp (NASDAQ:RNDB) to Sell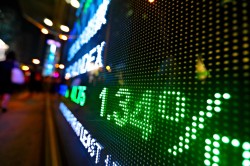 Randolph Bancorp (NASDAQ:RNDB) was downgraded by ValuEngine from a "hold" rating to a "sell" rating in a report issued on Tuesday, ValuEngine reports.
RNDB opened at $16.00 on Tuesday. The company has a debt-to-equity ratio of 0.75, a current ratio of 1.15 and a quick ratio of 0.95. The stock has a market capitalization of $90.62 million, a P/E ratio of 84.26 and a beta of 0.41. The company's 50 day simple moving average is $15.50 and its 200-day simple moving average is $15.08. Randolph Bancorp has a one year low of $13.16 and a one year high of $17.05.
Randolph Bancorp (NASDAQ:RNDB) last posted its quarterly earnings data on Tuesday, October 22nd. The financial services provider reported $0.21 earnings per share for the quarter, missing the consensus estimate of $0.26 by ($0.05). Randolph Bancorp had a return on equity of 1.25% and a net margin of 5.16%. The company had revenue of $10.88 million during the quarter.
An institutional investor recently raised its position in Randolph Bancorp stock. Acadian Asset Management LLC increased its position in shares of Randolph Bancorp Inc (NASDAQ:RNDB) by 124.1% during the 2nd quarter, according to its most recent Form 13F filing with the Securities & Exchange Commission. The firm owned 9,339 shares of the financial services provider's stock after acquiring an additional 5,171 shares during the quarter. Acadian Asset Management LLC owned about 0.16% of Randolph Bancorp worth $141,000 at the end of the most recent quarter. Institutional investors own 34.17% of the company's stock.
Randolph Bancorp Company Profile
Randolph Bancorp, Inc operates as the bank holding company for Envision Bank that provides financial services to individuals, families, and small to mid-size businesses in Massachusetts, Rhode Island, and southern New Hampshire. The company accepts checking, NOW, money market, and savings accounts, as well as certificate of deposits and IRAs.
Further Reading: What are the Benefits of Index Funds?

To view ValuEngine's full report, visit ValuEngine's official website.
Receive News & Ratings for Randolph Bancorp Daily - Enter your email address below to receive a concise daily summary of the latest news and analysts' ratings for Randolph Bancorp and related companies with MarketBeat.com's FREE daily email newsletter.