SMA Solar Technology AG (OTCMKTS:SMTGY) Short Interest Down 50.0% in December
January 13th, 2021
-
By Jessica Moore - Comments Off

on SMA Solar Technology AG (OTCMKTS:SMTGY) Short Interest Down 50.0% in December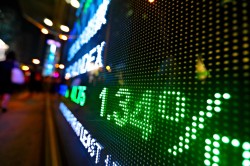 SMA Solar Technology AG (OTCMKTS:SMTGY) was the target of a significant drop in short interest in December. As of December 31st, there was short interest totalling 300 shares, a drop of 50.0% from the December 15th total of 600 shares. Based on an average daily trading volume, of 300 shares, the days-to-cover ratio is currently 1.0 days.
Shares of SMTGY traded down $0.09 during trading hours on Wednesday, hitting $7.95. 1,880 shares of the company were exchanged, compared to its average volume of 2,297. The business's fifty day moving average is $6.41. SMA Solar Technology has a one year low of $4.28 and a one year high of $8.32.
Several brokerages have commented on SMTGY. Berenberg Bank reiterated a "buy" rating on shares of SMA Solar Technology in a research report on Friday, November 20th. Jefferies Financial Group lowered shares of SMA Solar Technology from a "buy" rating to a "hold" rating in a research note on Tuesday.
Featured Story: Dividend Achievers
Receive News & Ratings for SMA Solar Technology Daily - Enter your email address below to receive a concise daily summary of the latest news and analysts' ratings for SMA Solar Technology and related companies with MarketBeat.com's FREE daily email newsletter.