Flutter Entertainment (LON:FLTR – Get Free Report) had its price objective lowered by research analysts at JPMorgan Chase & Co. from £171 ($210.00) to £157 ($192.80) in a report released on Monday, Digital Look reports. The firm presently has a "neutral" rating on the stock. JPMorgan Chase & Co.'s price objective indicates a potential upside of 22.03% from the stock's previous close.
Several other research firms have also commented on FLTR. Berenberg Bank increased their price target on shares of Flutter Entertainment from £160 ($196.49) to £169 ($207.54) and gave the company a "buy" rating in a research report on Tuesday, September 26th. Shore Capital reissued a "hold" rating on shares of Flutter Entertainment in a research report on Thursday, November 9th. One research analyst has rated the stock with a sell rating, three have given a hold rating and one has assigned a buy rating to the stock. Based on data from MarketBeat.com, the company has an average rating of "Hold" and an average price target of £144.15 ($177.02).
View Our Latest Report on FLTR
Flutter Entertainment Stock Up 1.3 %
Shares of
LON FLTR
traded up GBX 170.51 ($2.09) during mid-day trading on Monday, reaching £128.66 ($157.99). 230,926 shares of the company were exchanged, compared to its average volume of 471,315. The firm has a 50-day moving average of £133.74 and a 200 day moving average of £145.60. Flutter Entertainment has a 1 year low of £112.40 ($138.03) and a 1 year high of £168.32 ($206.71). The company has a quick ratio of 0.70, a current ratio of 0.81 and a debt-to-equity ratio of 57.11. The stock has a market cap of £22.74 billion, a price-to-earnings ratio of -38,986.39, a P/E/G ratio of 1.76 and a beta of 0.91.
Insider Activity
In other news, insider Holly Keller Koeppel purchased 1,000 shares of the stock in a transaction on Tuesday, November 14th. The stock was bought at an average price of £126.52 ($155.37) per share, with a total value of £126,520 ($155,372.71). Corporate insiders own 0.08% of the company's stock.
Flutter Entertainment Company Profile
Flutter Entertainment plc operates as a sports betting and gaming company in the United Kingdom, Ireland, Australia, the United States, and internationally. The company operates through four segments: UK & Ireland, Australia, International, and US. It offers sportsbooks and exchange sports betting products, daily fantasy sports products, and pari-mutuel betting products; fixed odds games betting products; online games and casinos; lottery; peer-to-peer games, including online bingo, rummy, and poker; and business-to-business services.
Featured Articles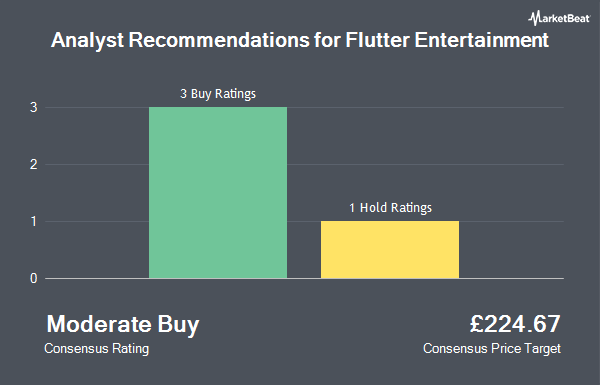 Receive News & Ratings for Flutter Entertainment Daily - Enter your email address below to receive a concise daily summary of the latest news and analysts' ratings for Flutter Entertainment and related companies with MarketBeat.com's FREE daily email newsletter.