Barclays reiterated their equal weight rating on shares of Crest Nicholson (LON:CRST – Free Report) in a research report sent to investors on Friday, Marketbeat.com reports. The brokerage currently has a GBX 200 ($2.50) target price on the stock.
Separately, Berenberg Bank reduced their price objective on shares of Crest Nicholson from GBX 310 ($3.88) to GBX 250 ($3.13) and set a buy rating for the company in a research report on Friday, August 25th. One research analyst has rated the stock with a sell rating, two have assigned a hold rating and three have assigned a buy rating to the stock. According to data from MarketBeat, the company presently has an average rating of Hold and a consensus price target of GBX 246 ($3.08).
View Our Latest Stock Report on CRST
Crest Nicholson Stock Performance
Shares of
CRST stock
opened at GBX 186.40 ($2.33) on Friday. The stock's 50-day moving average is GBX 173.19 and its two-hundred day moving average is GBX 198.72. The firm has a market cap of £478.90 million, a price-to-earnings ratio of 532.57, a PEG ratio of 0.51 and a beta of 1.93. Crest Nicholson has a 1 year low of GBX 152.70 ($1.91) and a 1 year high of GBX 276.80 ($3.46). The company has a debt-to-equity ratio of 11.66, a quick ratio of 0.72 and a current ratio of 3.73.
About Crest Nicholson
Crest Nicholson Holdings plc builds residential homes in the United Kingdom. The company develops and sells apartments, houses, and commercial properties. The company was founded in 1963 and is headquartered in Addlestone, the United Kingdom.
Recommended Stories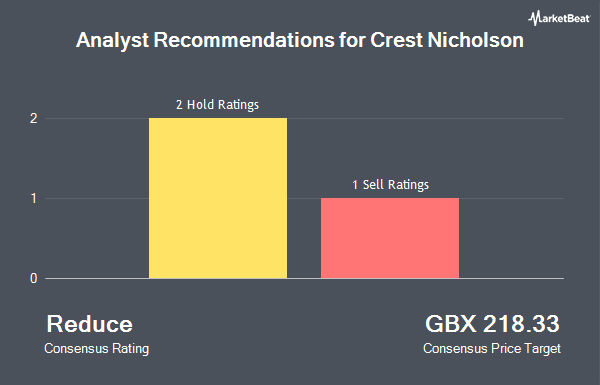 Receive News & Ratings for Crest Nicholson Daily - Enter your email address below to receive a concise daily summary of the latest news and analysts' ratings for Crest Nicholson and related companies with MarketBeat.com's FREE daily email newsletter.