Benchmark Holdings PLC (BMK) Now Covered by Berenberg Bank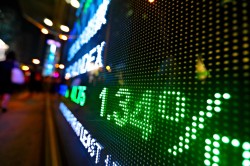 Berenberg Bank assumed coverage on shares of Benchmark Holdings PLC (LON:BMK) in a research note issued to investors on Friday. The brokerage set a "buy" rating and a GBX 70 ($1.01) price target on the stock. Berenberg Bank's target price indicates a potential upside of 32.08% from the stock's current price.
Shares of Benchmark Holdings PLC (LON:BMK) opened at 52.0000 on Friday. Benchmark Holdings PLC has a one year low of GBX 48.00 and a one year high of GBX 101.99. The company's market cap is GBX 114.06 million. The firm has a 50-day moving average of GBX 53.53 and a 200 day moving average of GBX 68.89.
Benchmark Holdings plc is a United Kingdom-based company engaged in the provision of technical services, products and specialist knowledge that support the development of food and farming industries. The Company operates in four segments: Animal Health Division, Sustainability Science Division, Technical Publishing Division, and Animal Breeding and Genetics Division.