Analysts' Updated EPS Estimates for August, 24th (AEO, AITB, ARAY, BT, CAP, CHU, ESYJY, IR, KORS, ROLL)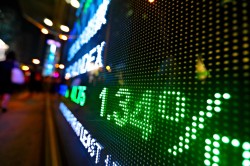 Analysts' updated eps estimates for Thursday, August 24th:
American Eagle Outfitters (NYSE:AEO) had its neutral rating reiterated by analysts at Buckingham Research.
Laidlaw initiated coverage on shares of AIT Therapeutics (NASDAQ:AITB). They issued a buy rating and a $16.00 target price on the stock.
Accuray (NASDAQ:ARAY) had its hold rating reissued by analysts at BTIG Research. The analysts wrote, "Results: In-Line Revenue with Soft Net Orders; Neutral ARAY's results the past few years seem to reflect a company hampered by its positioning with low market share, missed guidance, delays by the Chinese government and a tough capital structure that is trying to do all that it can to reaccelerate growth. Our concern is that continued single digit growth with lumpy orders and some quarterly revenue misses just doesn't excite investors and we are not sure what will accelerate growth meaningfully. We applaud new product innovation and focus on consistent results. With guidance reset earlier in the year, ARAY reported in-line rev but the conversion from orders has taken longer than expected with some geographic softness. ARAY is attempting to increase growth through multiple new products such as Radixact, OnRad, Precision Treatment Planning, and iDMS Data Management. We believe this may help but at the end of the day past execution keeps us at Neutral. FY18 guidance calls for revenue of $390M – $400M (2% – 4%) and gross order growth of 5%. Both seem reasonable but also not layups. We will continue to watch for more consistency and stronger growth that would bring investors back into the story.""
BT Group PLC (NYSE:BT) had its sell rating reaffirmed by analysts at Deutsche Bank AG. Deutsche Bank AG currently has a GBX 265 ($3.44) price target on the stock.
Capital Stage AG (ETR:CAP) had its buy rating reissued by analysts at DZ Bank AG.
China Unicom (Hong Kong) (NYSE:CHU) was downgraded by analysts at Nomura from a neutral rating to a reduce rating.
Easyjet Spon (NASDAQ:ESYJY) was downgraded by analysts at BNP Paribas from a neutral rating to an underperform rating.
Ingersoll-Rand PLC (Ireland) (NYSE:IR) had its buy rating reissued by analysts at Stifel Nicolaus.
Michael Kors Holdings Limited (NYSE:KORS) was downgraded by analysts at Zacks Investment Research from a buy rating to a hold rating. According to Zacks, "Shares of Michael Kors took a sharp "U–turn" following the company's positive earnings streak for the ninth straight quarter and upbeat fiscal 2018 guidance. The bullish run in the stock price helped it to outpace the industry in the past three months. Revenues also came ahead of the estimate for the second quarter in row on account of robust retail sales performance. The company now envisions fiscal 2018 total revenue to be nearly $4.275 billion, up from the previous estimate of about $4.25 billion. On the other hand, Michael Kors' acquisition of Jimmy Choo will help diversify portfolio and tap international markets. The company has been constantly deploying resources to expand product offerings, open new stores, build shop-in-shops and upgrade eCommerce platform. We note that despite the possibility of heavy investments weighing on margins in the short term, management continues to take up strategic endeavors."
RBC Bearings (NASDAQ:ROLL) was downgraded by analysts at Zacks Investment Research from a buy rating to a hold rating. According to Zacks, "Over the last three months, RBC Bearings' shares have outperformed the industry. The company reported better-than-expected earnings for first-quarter fiscal 2018. Quarterly earnings came in at 91 cents, comfortably surpassing the Zacks Consensus Estimate of 82 cents. In addition, net sales during the reported quarter beat the Zacks Consensus Estimate by 1.8%. The upswing was stemmed by sturdy sales in both aerospace and industrial end markets. Robust demand, effective integration of Sargent business, lower costs and greater operational efficacy will likely enhance near-term profitability. However, over the last three-month period, the stock looks a bit overvalued compared to the industry. Even so, market headwinds such as weak energy prices, or a stronger U.S. dollar might limit near-term growth. Moreover, over the last 60 days, Zacks Consensus Estimate for the stock has moved south for fiscal 2018."
Synopsys (NASDAQ:SNPS) was downgraded by analysts at Zacks Investment Research from a buy rating to a hold rating. According to Zacks, "Synopsys is a vendor of electronic design automation (EDA) software to the semiconductor and electronics industries. Shares of Synopsys has outperformed the industry over the past one year. Additionally, the company's fourth-quarter and upbeat fiscal 2017 guidance are encouraging. We believe that the company's sustained focus on introducing new products, acquisitions and deal wins will continue to boost results, going ahead. Moreover, unique intellectual properties and global support provided by the company will likely drive its forthcoming results. Furthermore, the acquisition of Cigital and Codiscope will enable Synopsys to offer a comprehensive software security signoff solution to its customers. However, competition from peers, a challenging technology spending environment and uncertainty regarding the exact time of realizing acquisition synergies keep us on the sidelines."
Stratasys (NASDAQ:SSYS) was downgraded by analysts at Zacks Investment Research from a buy rating to a hold rating. According to Zacks, "Stratasys is a manufacturer of in-office rapid prototyping (RP) and manufacturing systems and 3D printers. The stock has outperformed the industry on a year to date basis. We are positive about Stratasys' turnaround strategies which include launching innovative products, strategic partnerships and acquisitions. The initiatives will help Stratasys to gain more market share as the prospect of 3D printing industry appears bright. Data from the Wohlers Report revealed that the worldwide 3D printing industry is projected to grow from $3.07 billion in 2013 to $12.8 billion by 2018, and exceed $21 billion by 2020 at a CAGR of 34%. However, some customers are delaying their purchases owing to the current economic conditions. Going forward, competition from 3D Systems Corporation is also a potent headwind."
UBS AG (NYSE:UBS) was downgraded by analysts at Zacks Investment Research from a buy rating to a hold rating. According to Zacks, "UBS Group AG's shares have outperformed the industry in the last six months. The company's second-quarter 2017 results surpassed the Zacks Consensus Estimate. Results reflected higher net interest income and lower trading income. UBS Group remains focused on building capital levels, global expansion and executing restructuring initiatives. Moreover, management anticipates achieving CHF 2.1 billion in net cost reductions by the end of 2017. Also, UBS Group AG's strong capital position remains a tailwind. However, its profitability continues to be challenged by negative interest rates in the domestic economy."