Research Analysts' Updated EPS Estimates for August, 25th (ADSK, AEO, BAYRY, CMLEF, FRED, GPS, HDP, HRL, INFY, JASO)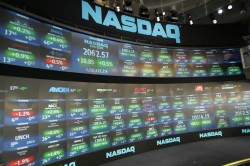 Research Analysts' updated eps estimates for Friday, August 25th:
Autodesk (NASDAQ:ADSK) had its buy rating reiterated by analysts at Barclays PLC. They currently have a $125.00 price target on the stock.
American Eagle Outfitters (NYSE:AEO) was upgraded by analysts at Zacks Investment Research from a sell rating to a hold rating. According to Zacks, "American Eagle has outperformed the industry in the past three months driven by positive sentiment for second-quarter fiscal 2017, since reporting a dismal first-quarter. The company lived up to expectations with both the top and bottom line beating estimates in the second quarter. While the quarter marked second straight quarter of sales beat, earnings topped estimates after a miss in the last quarter. The company also posted 10th straight quarter of positive comps on the back of strong online sales at both brands driven by efficient use of omni-channel capabilities to enhance customer experience. Moreover, the company is optimistic about the second half of fiscal 2017, especially the fall season. It is also on track to launch the revamped loyalty program targeting to convert current customers and attract new ones. However, margins remained strained owing to increased promotions. The company also expects these trends to continue and hurt results."
Bayer AG (NASDAQ:BAYRY) was upgraded by analysts at Zacks Investment Research from a sell rating to a hold rating. According to Zacks, "Bayer surpassed earnings estimates but missed revenue estimates in the second quarter of 2017. The company experienced a significant decline in sales and earnings in the Crop Science segment due to high channel inventories in Brazil. Business at Consumer Health decreased, primarily due to the difficult market environment in the U.S. Based on this, the company lowered its revenue and earnings outlook for 2017. The company is facing generic threats/competition for many of its products including the Yaz franchise (oral contraceptives). The genericization of key drugs would negatively impact revenues. Nevertheless, the company is looking forward to acquire Monsanto Company in a deal worth approximately $66 billion. With the acquisition, the combined enterprise will be able to bring innovations to the market faster and provide its customers with better solutions. Yet, Bayer's shares have outperformed the Zacks classified industry year to date."
Cominar Real Estat Trust Units (OTCMKTS:CMLEF) was upgraded by analysts at BMO Capital Markets from a market perform rating to an outperform rating.
Fred's (NASDAQ:FRED) was upgraded by analysts at Zacks Investment Research from a sell rating to a hold rating. According to Zacks, "Fred's shares have declined in the last six months, wider than the industry. We note that Fred's has been reporting dismal comps since last many quarters, owing to the sale of low productive discontinued inventory and headwinds in the consumable categories. Store closures have also been negatively impacting its comps. Moreover, the lack of company's presence in the developing markets also deprives it from the benefits of high growth opportunities. In fact, the cancellation of Fred's deal to buy Rite Aid stores, along with these factors has also hurt the stock. Though the company has been taking initiatives by shifting its focus to the pharmacy organization to drive scripts into the stores, improve service to its patients, launch of marketing campaigns to generate new customers, but its dismal performance signals further trouble down the road. Moreover, loss estimates have widened in the last 30 days."
Gap, Inc. (The) (NYSE:GPS) was upgraded by analysts at Zacks Investment Research from a hold rating to a buy rating. They currently have $26.00 target price on the stock. According to Zacks, "Gap's shares have outpaced the industry in the last three months, driven by its solid focus on enhancing product quality and responsiveness to changing consumer trends. Evidently, the company has been making constant efforts to boost its digital and mobile offerings, alongside improving product acceptance. The success of these endeavors was clearly visible when Gap's second-quarter fiscal 2017 marked its second straight earnings beat, and sales topped estimates for the fifth consecutive quarter. Also, comps continued being fueled by Old Navy strength and recovery of the namesake brand. Notably, Gap's growth efforts and a solid first half encouraged management to raise its fiscal 2017 earnings view. However, currency woes are likely to persist in fiscal 2017. Also, management expects high SG&A expenses in the third quarter, stemming from increased investments for the back-to-school season."
Hortonworks (NASDAQ:HDP) had its target price boosted by Barclays PLC from $16.00 to $20.00. Barclays PLC currently has an overweight rating on the stock.
Hormel Foods Corporation (NYSE:HRL) had its price target cut by Barclays PLC from $38.00 to $35.00. They currently have an overweight rating on the stock.
Infosys Limited (NYSE:INFY) had its hold rating reissued by analysts at Cantor Fitzgerald. The analysts wrote, "Foresi's Take. The drama at Infosys continued this week with further board resignations. It is too early to tell what was the overriding confounding factor performance, corporate governance, or outside political pressure. The new/old management is working to put together a strategy and find a new CEO.""
JA Solar Holdings, Co. (NASDAQ:JASO) was upgraded by analysts at Zacks Investment Research from a hold rating to a buy rating. The firm currently has $7.00 target price on the stock. According to Zacks, "JA Solar's second-quarter 2017 earnings and revenues surpassed the respective Zacks Consensus Estimate and also improved year over year. The company also increased its total shipment guidance for the year. Again, it stands to gain from its geographically advantageous position in spite of China's trade war with the United States. In fact, the company's focus on widening its geographical customer base has resulted in incremental international sales. However, headwinds like anti-dumping policies by the United States and stiff competition in China, might be a serious threat to its profits. Also, JA Solar's share price underperformed the broader industry's price in the last one year."
Spark Therapeutics (NASDAQ:ONCE) had its buy rating reaffirmed by analysts at Cantor Fitzgerald.
Staples (NASDAQ:SPLS) was upgraded by analysts at Zacks Investment Research from a sell rating to a hold rating. According to Zacks, "Staples, which accepted the buyout offer of Sycamore Partners, has outpaced the industry in the past three months. The company reported in-line earnings for the fifth quarter in row, when it posted second-quarter fiscal 2017 results. Top line also beat estimates. However, both sales and earnings continued to decline year over year. Persistent weakness in the office products sector, technological advancements and stiff competition continue to hurt performance. Nevertheless, Staples' actions to streamline operations aimed at enhancing productivity and performance of North American business bode well. Further, its cost containment efforts that target annualized savings of nearly $300 million by 2018 holds promise. The company is poised to gain from its plans of shutting underperforming stores, boosting online presence and tapping growth opportunities in Pro Categories."
Stratasys (NASDAQ:SSYS) was upgraded by analysts at Zacks Investment Research from a hold rating to a buy rating. The firm currently has $24.00 target price on the stock. According to Zacks, "Stratasys is a manufacturer of in-office rapid prototyping (RP) and manufacturing systems and 3D printers. The stock has outperformed the industry on a year to date basis. We are positive about Stratasys' turnaround strategies which include launching innovative products, strategic partnerships and acquisitions. The initiatives will help Stratasys to gain more market share as the prospect of 3D printing industry appears bright. Data from the Wohlers Report revealed that the worldwide 3D printing industry is projected to grow from $3.07 billion in 2013 to $12.8 billion by 2018, and exceed $21 billion by 2020 at a CAGR of 34%. However, some customers are delaying their purchases owing to the current economic conditions. Going forward, competition from 3D Systems Corporation is also a potent headwind."
Teradyne (NYSE:TER) was upgraded by analysts at Zacks Investment Research from a hold rating to a buy rating. Zacks Investment Research currently has $39.00 target price on the stock. According to Zacks, "Teradyne is a leading provider of automated test equipment. On a year-to-date basis, the stock has outperformed the Zacks Electronics – Testing Equipment industry. Also, Teradyne's second quarter results surpassed the Zacks Consensus Estimate on earnings and revenue. A recovery in the core semiconductor business (processors, MCUs and power management), long-term opportunities in the high-growth wireless test market, growing memory market exposure, strong product lineup, lean cost structure and strong balance sheet are positives. Given the popularity of its products, the Universal Robots acquisition and the continuous design win momentum; the company is optimistic long-term prospects. However, weakness in the wireless test market could be a concern in the near term."
UBS AG (NYSE:UBS) was upgraded by analysts at Zacks Investment Research from a hold rating to a buy rating. Zacks Investment Research currently has $19.00 target price on the stock. According to Zacks, "UBS Group AG's shares have outperformed the industry in the last six months. The company's second-quarter 2017 results surpassed the Zacks Consensus Estimate. Results reflected higher net interest income and lower trading income. UBS Group remains focused on building capital levels, global expansion and executing restructuring initiatives. Moreover, management anticipates achieving CHF 2.1 billion in net cost reductions by the end of 2017. Though, UBS Group AG's profitability continues to be challenged by negative interest rates in the domestic economy, its strong capital position remains a tailwind."